Sherwood Award
Center Theatre Group's $10,000 Richard E. Sherwood Award for emerging theatre artists is given annually to nurture innovative and adventurous theatre artists working in Los Angeles.
The Sherwood Award nurtures emerging artists and invites them to engage in a professional relationship with Center Theatre Group. Sherwood Award recipients demonstrate leadership qualities, push existing boundaries, and are dedicated to improving the future of their respective artistic fields. Artists are not limited by title, role, or genre, but they must have a relationship to contemporary performance rooted in theatre.
The Sherwood Award was established in 1996 by the Sherwood family in memory of Richard E. Sherwood, a patron of the arts who was passionately committed to theatre and had a special appreciation for the energy and talent of emerging artists. A former president of LACMA, he was president and then chairman of the Center Theatre Group Board of Directors from 1980 until his passing in 1993.
2019 Sherwood Award Applications
The application for the 2019 Sherwood Award is now live. The deadline for the initial application is June 1, 2018 at 11:59 pm PT. Select candidates will be invited to submit full applications. Full applications, along with letters of recommendation and work sample material, will be due no later than July 27, 2018 at 11:59 pm PT. The winner will be announced at the LA STAGE Alliance Ovation Awards.
For more information or any questions about the Sherwood Award, please contact Sherwood@CTGLA.org.
If we are to have a dynamic theatre expressing the world of the 21st century, we must recognize and nourish the explorative artist, particularly in the struggle of the early years of a career.
Information Sessions
There will be two Information Sessions for interested applicants with the Sherwood Artistic Program Coordinator Miranda Wright and Sherwood Fellow Lily Comeau. These sessions are recommended, not required, and are available to anyone who would like more information or clarification about the application process. Information sessions will be held on the following days
Sat, May 12 at 11am (RSVP by Wed, May 9 at 6pm)
Tue, May 15 at 7pm (RSVP by Fri, May 11 at 6pm)
Information Sessions will be held at the Center Theatre Group Admin Offices at The Music Center Annex, 601 W Temple St, Los Angeles, CA 90012. To RSVP, please email Sherwood@CTGLA.org.
Sherwood Award Requirements
Applicants must be:
An individual artist (no groups or teams)
A resident of Los Angeles for at least two years
An artist who has developed/collaborated on at least two fully produced projects in Los Angeles
Emerging in their field and/or at a catalytic moment in their career (which does not reflect the age of the artists, but where they are in the trajectory of their careers)
Sherwood Award priorities:
Competitive candidates will demonstrate the following qualities:
Innovative—introducing new ideas; original and creative in thinking
Pushing boundaries—extending frontiers, experimenting, challenging the theatrical norm, finding new forms of artistic expression
Exceptional talent—the ability to capture the attention of the audience through pure skill and craft, a natural ability or aptitude in the selected field, translating passion and dedication into works of art, etc.
Effective communication—theatre artists who can passionately and effectively communicate their point of view and distinct artistic voice.
About the Sherwood Award Application Process
There are four phases in the Sherwood Award application process.
Phase One (June)

Initial applications are reviewed by the Sherwood Artistic Program Coordinator, the Sherwood Fellow, and Center Theatre Group's Artistic Development Program Manager (Sherwood Team). Applicant's submitted application, professional resume, and artist statement will be reviewed.

Phase Two (Late June – August)

Applicants who meet the requirements of the Sherwood Award and demonstrate qualities aligning with the priorities outlined above, or applicants who are nominated by an external nomination committee, are invited to submit a full application. Full applications are reviewed by the Sherwood Team and one external reviewer. In addition to the initial application, work sample material, one letter of recommendation, and written responses will be reviewed.

Phase Three (August – September)

Approximately eight semi-finalists will be selected. Semi-finalists will be reviewed by an external panel of professionals who will make recommendations to the Sherwood Team. These applicants will then interview with the Sherwood Team. Three finalists will then be selected.

Phase Four (October)

The three finalists will interview with the Sherwood Award Panel comprised of Dee Sherwood, the Sherwood Team, and additional Center Theatre Group artistic staff. By this point, all members of the Panel will have reviewed the candidates' work. Finalists will be announced in early October, and the Sherwood Award recipient will be announced at the Ovation Awards.
---
2018 Sherwood Award Recipient
On January 29, 2018 Center Theatre Group selected set and projection designer Hana S. Kim as the 2018 Sherwood Award recipient for her exceptional contribution to the Los Angeles theatre landscape and her work as an innovative and adventurous artist.
Hana S. Kim
Hana S. Kim is a live performance set and projection designer with a background in film design. Her designs have received Stage Raw Awards, StageSceneLA Awards, Bay Area Theatre Critics Circle Awards, and Helen Hayes Awards, as well as nominations for the Ovation Awards and Theatre Bay Area Awards. Hana's most recent work includes projection design for Steal A Pencil For Me directed by Omer Ben Seadia at Opera Colorado, scenic and projection design for Eva Trilogy directed by Loretta Greco at the Magic Theatre in San Francisco, and The Christians directed by Hana Sharif at Baltimore Center Stage. She is a member of United Scenic Artists Local 829 and recipient of a Princess Grace Award in Theatre Design.
This year's selection process was made possible by a diverse group of external reviewers outside of Center Theatre Group. Ann Closs-Farley, a previous Sherwood Award winner (Costume Design—2010), was invited to review the first pool of applicants. Her insightful feedback as a previous recipient and an established working theatre artist helped to narrow down the pool to eight semi-finalists. The semi-finalist applications were then sent to a panel of five accomplished theatre professionals based on their experience and expertise in the Los Angeles community. Their analyses and judicious questions provided the basis for the structure of each interview with the Sherwood Award Artistic Program Coordinator Miranda Wright and the Sherwood Fellow Diana Sanchez. Center Theatre Group would like to thank Ann Closs-Farley, Oanh Nguyen (Artistic Director, Chance Theater), Ameenah Kaplan (Sherwood Award winner, Director—2007), Ralph Flores (Senior Project Specialist, Public Programs for Getty Villa), Naomi Okuyama (Santa Monica Cultural Affairs), and Edgar Miramontes (Associate Director, REDCAT) for their time in helping us recognize the next Sherwood Award recipient.
---
Sherwood Fellowship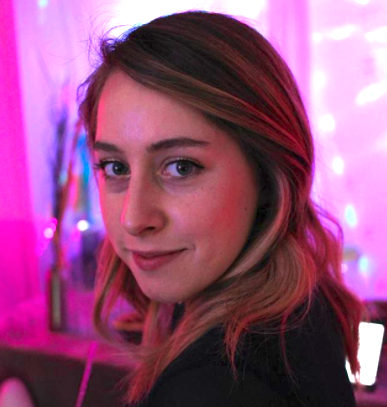 To aid the Sherwood Artistic Programs Coordinator and Center Theatre Group's Artistic Development Program in the administration and coordination of the award process, a professional fellowship is offered to an emerging and aspiring arts professional. In addition to a stipend, the fellow receives a mentorship in contemporary theatre and gains exposure to contemporary work being presented in Los Angeles.
Lily Comeau is a graduate candidate at California State University, Northridge where she is pursuing her Master's degree in Theatre. She is a graduate of Eugene Lang College, The New School for Liberal Arts where she received her Bachelor's degree in Theatre and minored in Visual Arts. While finishing up her degree, she has focused her attention to work that champions the value of theatre. Upon graduation she hopes to be an advocate for the arts in Los Angeles by making arts accessible for everyone in our community.
To request more information about the Sherwood Fellowship, please e-mail Sherwood@CTGLA.org.
Sherwood Award Past Recipients