When did you figure out why, how, and which kinds of theatre moved you? Our new, free program for high school students—Teen Theatregoers—is bringing a group of young people to Center Theatre Group productions to see live theatre, talk about it, and learn more about their own taste in art with theatre professionals from December 2019 – May 2020.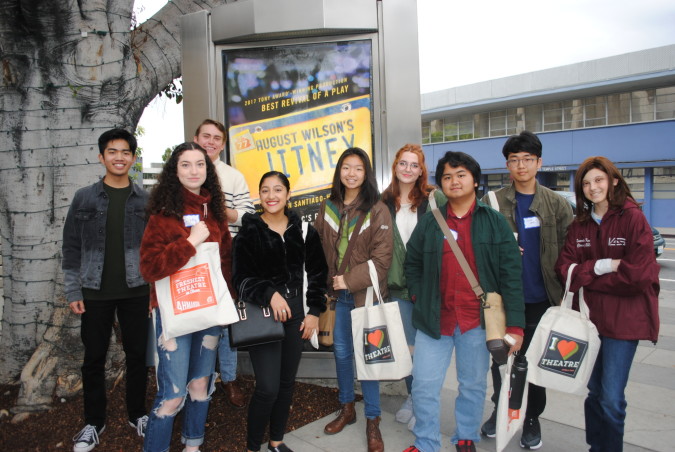 Program Information
Participation is free and students will receive two tickets, one for themselves and one ticket for a guest, for select performances.
Eligibility
Arts-interested high school students ages 14–18 who reside in Los Angeles County are eligible to apply. We're looking for teens who want to see and discuss live theatre with one another. No theatre experience is required!
Location & Transportation
Meetings take place at the Center Theatre Group offices located in The Music Center Annex, 601 W Temple St, Los Angeles, CA 90012, and performances take place at the Ahmanson Theatre and Mark Taper Forum, both located at 135 N Grand Ave, Los Angeles, CA 90012, and the Kirk Douglas Theatre located at 9820 Washington Blvd, Culver City, CA 90232.
Program Requirements
Participants are required to attend four complimentary performances during the course of the program. The entire group will see August Wilson's Jitney at the Taper together, and participants will see three more performances of their choice on dates of their choice (subject to availability) at the Ahmanson, Taper, and/or Douglas from December 2019 – May 2020. Participants are required to attend the following meetings:
Participants are required to attend the following meetings:
Opening Discussion, Lunch, and Performance of Jitney: Saturday, Dec 7, 2019, 12:30–5pm (includes performance time
Mid-Point Discussion and Dinner: Thursday, Feb 20, 2020, 4:30–6:30pm (no performance).
Closing Discussion and Dinner: Tuesday, May 5, 2020, 4:307ndash;6:30pm (no performance).

Students will receive one ticket for Jitney for December 7, 2019, plus two tickets for three additional performances for themselves and a guest of any age. The total time commitment is approximately 15 hours—most of it as an audience member!

If you have questions about this application or need assistance, please contact Felipe M. Sanchez at TeenTheatregoers@CTGLA.org or 213.972.7587.