The name "Ivo van Hove" doesn't flow off the tongues of Angelenos yet—but it will soon. (For the record, it's pronounced "EE-vo van HOE-va.") The 57-year old Belgian director of A View From the Bridge, which plays the Ahmanson Theatre September 7 – October 16, 2016, has been called avant-garde, minimalistic, provocative, and groundbreaking for his interpretations of works ranging from David Bowie's Lazarus and Tony Kushner's Angels in America to Tennessee Williams' A Streetcar Named Desire and Shakespeare's English histories.
Van Hove, who is the general manager of Toneelgroep Amsterdam, has been directing for 35 years, but in the past year he has taken Broadway by storm, winning the 2016 Tony Awards® for Best Director and Best Revival for A View From the Bridge and reviving Miller's The Crucible in a star-studded production featuring Ben Whishaw, Sophie Okonedo, Saoirse Ronan, and Tavi Gevinson. To introduce Los Angeles to van Hove and his work, we've compiled recent interviews with and profiles of a director who is breaking boundaries and proving that you can teach an old dog (or, in this case, play) new tricks.
In a New Yorker profile titled "Theatre Laid Bare: Ivo van Hove's raw productions bring out the elemental drama of classic works," playwright Tony Kushner explained the power of van Hove's direction:
Kushner says that one of van Hove's gifts is to 'make the audience confront the failure to create completely convincing illusions—and the power of the theatre is that failure to create convincing illusions. It is the creation of a double consciousness. Ivo's impulse is to take that very seriously, and to ask the audience to collaborate in making this thing real.'
This profile also revealed the grueling rehearsal process that makes van Hove's work possible:
Van Hove hates auditions: he makes decisions quickly, and resents the time lost to politesse. When working with his permanent company, he casts by fiat, assigning actors to play characters who, among other things, may have to fight each other or have sex with each other—both fairly frequent occurrences in van Hove productions. 'Because he knows everyone very well, sometimes he likes to make explosive combinations—like a kid who lets insects fight,' Eelco Smits told me. 'Sometimes the chemistry between actors is really sexual, and he uses it.' Actors are expected to be "off book"—know all their lines—from the first day of rehearsal, a practice that Americans often find disconcerting. Van Hove likes to rehearse only five hours a day. Juliette Binoche [who starred in van Hove's Antigone] told me, 'It has to print inside you very quickly. You don't go back often. It is very raw. In a way, it is very frightening.'
In a conversation with Patrick Healy of The New York Times, van Hove disclosed what first inspired him to reimagine established works after getting his start as a writer/director:
When I was really young and started out as a director, I was not at all interested in texts…But then totally by coincidence, I was asked at a very young age to teach actors in a school in Antwerp. I was 24, so I was teaching people that were 21 and 20, and I had two classes together, so it was a huge group and I thought, well, what to do with them? And then I thought of this play, a very difficult play actually, Troilus and Cressida, by William Shakespeare, and I thought well let's do that…And then I discovered for myself that I could make much [more] personal work through the filter of this old text, so that what I had done before felt to me less personal than when I used the text of Shakespeare. So I discovered the huge potential, even in a text from over 400 years ago or 56 years ago, that I could tell even more about myself—about what I thought of myself, of people, of mankind—by using a text by a good author.
With famed British directors Rupert Goold and Deborah Warner by his side, van Hove explained what inspires him to work on a particular text:
I have to be in love with something, and then I can direct it afterward. If there's no love story going on, then for me it's not worthwhile to do it, not important to do it, and then I better not do it, because I have to inspire [people]…I can be inspired, but I have to give my inspiration to other people because I will not be there onstage…In order to convey the inspiration, to fuel the actors and the team, it has to be a total love story. And for me, love stories, when I look at what I've done, it can also be very awkward ones sometimes. It's not always the best play, but I need to feel an urge in a text, a necessity to do it.
In a recent interview with The Huffington Post, van Hove discussed how he fell in love with Arthur Miller's work:
I had a huge misunderstanding. I thought that Miller was a politically correct author who divided people into good and evil. And I was of course totally wrong in this. The plays are very ambiguous, the characters are very complex. So I discovered that I was totally wrong about him, I consider him one of the great—if not the greatest—American playwright.
Van Hove told the Los Angeles Times' Charles McNulty about why A View From the Bridge resonates in this particular moment:
'It doesn't make sense to me to go back to the birth of this story for Miller,' [van Hove] explained. 'When you listen to the Republican debates and when you hear how people blame, scapegoat and call one another liars, you realize that this story resonates with what's going on right now.'
In accepting his Tony for A View From the Bridge—his Broadway debut—van Hove talked about the improbability of it all:
I came here for the first time when I was 20 mainly to see David Bowie in The Elephant Man at the Booth Theatre. I was sitting on a bench and a woman came to me. She asked me what I want to be. I said, 'I want to be a theatre director,' and she grabbed a piece of paper and a pen and asked me to sign it, because she said, 'You never know.' And indeed you never know. She's watching now, and she's now thinking, 'See? I was right.'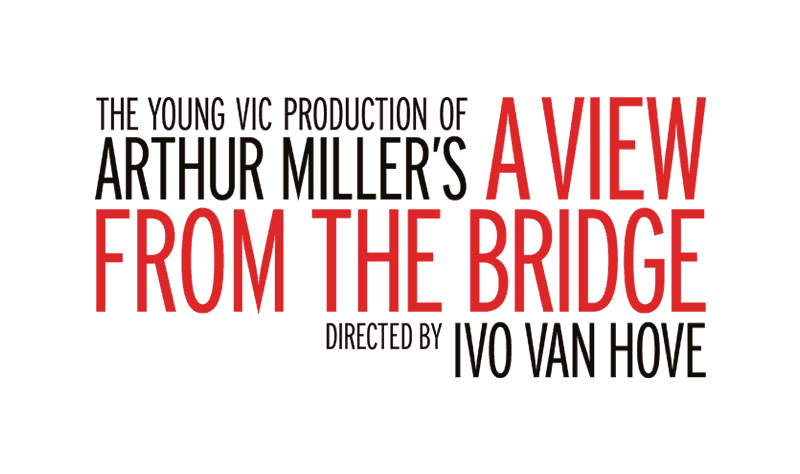 Onstage at the Ahmanson Theatre September 7 – October 16, 2016.
Buy Tickets