Arthur Miller Wows Center Theatre Group Audiences Once Again
'A View From the Bridge' Marks Our Fifth Miller Production Over 50 Years
Almost exactly 101 years after Arthur Miller's birth, Center Theatre Group is thrilled to be bringing the work of one of America's master playwrights back to our stages to open our 50TH Anniversary Season. Our history with Miller began in December 1972, our sixth season, with a highly successful production of The Crucible starring Charlton Heston as John Proctor.
"The Crucible is once again timely," wrote Dan Sullivan in his initial review in the Los Angeles Times. The physical challenge of a big part in a big play in a big theater forces Heston really to open up, and he really can. Indeed, The Crucible marked the beginning of a long and fruitful collaboration: Heston took on the challenge of starring roles at the Ahmanson five more times over the next 12 seasons.
The Crucible quickly had audiences buzzing. "How nice to hear a theater crowd at intermission talking about the play! Not only were they doing that between acts of The Crucible at the Ahmanson the other night, they were getting into the issues that seem to make the play newly topical every few years," wrote Dan Sullivan after a return trip to the theatre. "It must be gratifying for Arthur Miller to know that audiences are finding so much juice in The Crucible after almost 20 years."
Throughout the decades, our audiences have found new relevance in the spotlight Miller shines on crucial moments in American history. In 1984, Miller traveled to Los Angeles for the West Coast premiere of The American Clock at the Mark Taper Forum, which Founding Artistic Director Gordon Davidson directed. Miller had spent years working on the play, which was inspired by Studs Terkel's Hard Times: An Oral History of the Great Depression. Although The American Clock premiered in New York in 1980, Miller wrote a new version for the Taper production. "It was Arthur Miller trying to get his hands around the whole Depression, and being a child of the Depression and being affected by that, in a sense, and Arthur was always asking questions about family and about moral responsibility in one way or another," recalled Davidson in an interview later. Looking back upon his retirement from Center Theatre Group in 2004, Davidson called The American Clock a great experience, with Arthur Miller staying at our house and helping [my children] Rachel and Adam with their homework.
Miller's work returned to Center Theatre Group and the Ahmanson in 2000 with the revival of Death of a Salesman that had earned four 1999 Tony Awards®, including Best Revival and Best Actor in a Play for Brian Dennehy. "It's remarkable to see Miller's 1949 play in the light of a new century, in such a handsome, grandiloquent production," wrote Steven Leigh Morris in the L.A. Weekly, a production to which—quoting Willy's long-suffering wife, Linda (Elizabeth Franz)—'attention must be paid.'
Center Theatre Group Artistic Director Michael Ritchie's passion for Miller's canon stretches back decades. Prior to arriving in Los Angeles, in his first season as artistic director of the Williamstown Theatre Festival, in 1996, he produced two of Miller's plays: the American premiere of The Ride Down Mount Morgan and All My Sons. In 2001, Ritchie revived Miller's The Man Who Had All the Luck at Williamstown starring Chris O'Donnell; the production transferred to Broadway and was chosen by Time magazine as one of the year's 10 best plays.
Last year, in honor of Miller's centennial, Ritchie brought 1968's The Price to the Taper in a production directed by Tony winner Garry Hynes and featuring Kate Burton, John Bedford Lloyd, Alan Mandell, and Sam Robards. The Price, wrote Charles McNulty in the Los Angeles Times, explodes with the thunderous moral inquiry that has earned the author a place on the Mt. Rushmore of American playwriting.
Getting the Young Vic Production of A View From the Bridge to the Ahmanson stage was a no-brainer for Ritchie. "It's never a question of whether I want to do an Arthur Miller play," said Ritchie. "It's a question of whether we can get the very best production of an Arthur Miller play to our stages. Ivo van Hove is a tremendous director, and this production is nothing short of groundbreaking. I'm tremendously excited to have it here at the Ahmanson."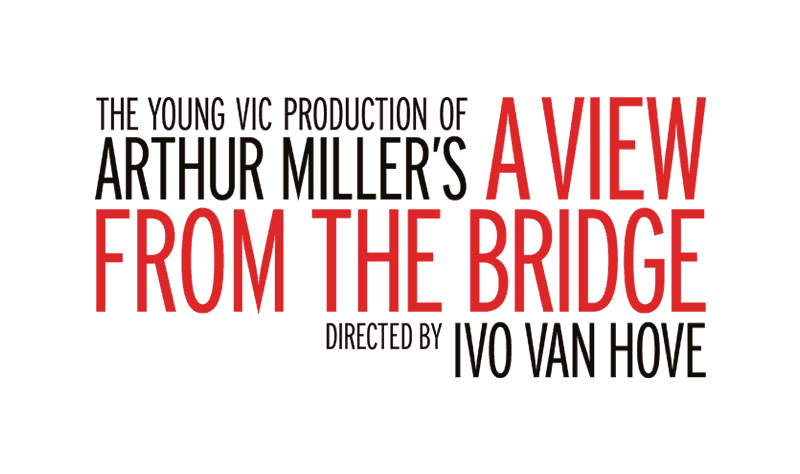 Onstage at the Ahmanson Theatre September 7 – October 16, 2016.
Buy Tickets