'We Are All Morons'
John Leguizamo and Tony Taccone on the Intersection of Comedy, Education, and Human Connection
According to John Leguizamo, "we are all morons"—himself included, as he explains in his new show Latin History for Morons (onstage at the Ahmanson September 5 – October 20, 2019). In a classroom-like setting, the play hashes out a chronicle of Latin culture, one that is absent from the pages of conventional American textbooks—and both Latinx and non-Latinx audiences alike have a lot to learn. "We ourselves don't know anything about our own contributions to this country, let alone the entire world," said Leguizamo. "But if you write a really great, specific story, it becomes universal. So I'm relating to everyone as a human being. Regardless of our color, ethnic, or religious background—we're all the same people."
The craft of universal storytelling was just one subject Leguizamo and Latin History for Morons director Tony Taccone dived into during a free, open-to-the-public Q&A hosted by Center Theatre Group and the USC Center on Public Diplomacy on September 11, 2019 at Wallis Annenberg Hall. Jay Wang, Director of the Center on Public Diplomacy, kicked off the conversation with a question for Leguizamo: what's the story behind the show?
Initially, Leguizamo, a self-proclaimed former "ghetto nerd," was trying to empower his son, who was being bullied ("racially profiled") at school. His research on Latinx history quickly took on a life of its own, and he realized there was a piece there. "I tried to make it like a class," he recalled of his first forays into creating what would become Latin History for Morons. "I look back at my favorite points in my life with my favorite teachers and professors, and they were always the most outrageous, the funniest."
Taccone and Leguizamo decided the "exaggerated" teacher persona was the way to create a compelling piece of theatre that would entertain audiences of all ages and backgrounds. "Even if it's your own history, kids don't want to hear it," Leguizamo chuckled. "When I was doing this stuff in comedy clubs, people were like, 'I thought you were going to be funny—this is like a history class!'" So as he continued developing Latin History for Morons, Leguizamo used wacky humor to "smuggle the information" to audiences.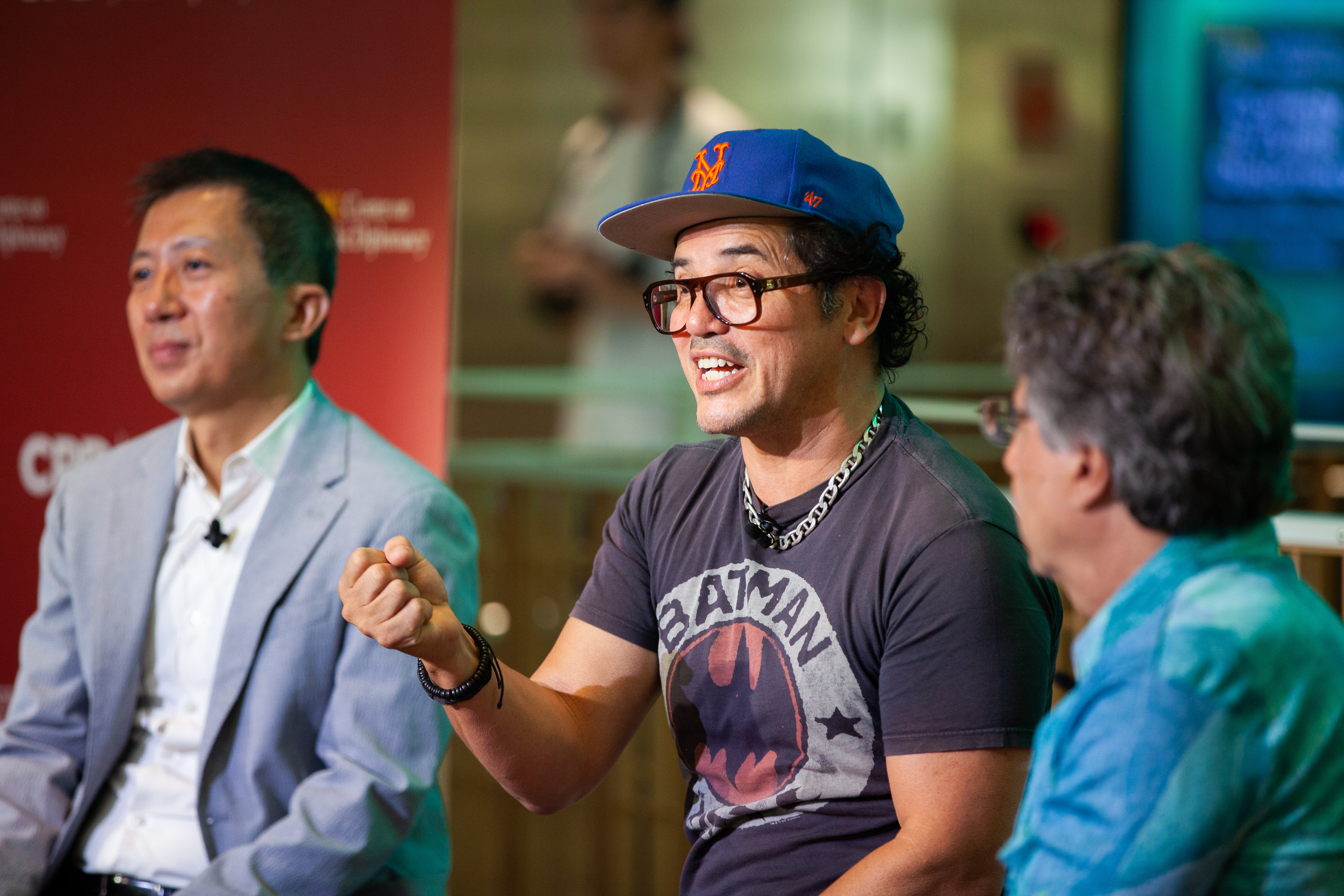 "It's the power of comedy—to make it seem like the information is easy to access, to absorb, to change people and their minds," he added.
As they continued developing the piece, he and Taccone regularly considered finding the right balance of information and humor for the audience. With each new draft—Taccone said Leguizamo sent him at least 200—they played a game of push-and-pull. "It was a meticulous process of going too far, pulling back, pulling back too much," Leguizamo said.
But while he's comfortable playing the role of teacher and entertainer, he's cautious about taking on too much. A student in the audience asked Leguizamo about representing Latinx people as a "cultural ambassador."
"I don't go into it thinking I'm representing my people," he said. "But I do go into it thinking that I'm talking to my people—not representing, but talking. I'm just John. I'm very linked to my culture, but I can't speak for everyone. What I can do is talk to everybody about my experience and hope it's enlightening. It's not that I think my life is so freaking interesting—it's not—but my life is a tool to get information out." He added that he thinks of his perspective as a "mirror" for Latinx people: "So we can see ourselves, that we have value, that we matter, that we're funny and culturally relevant—that's the message I want to give."
Theatre is the only place that allows me to tell my stories the way I want to tell them, the way they should be told.
Why, asked a fellow artist in the audience, choose theatre as the medium for that message? After all, Leguizamo has a successful onscreen career as well.
"Theatre is the only place that allows me to tell my stories the way I want to tell them, the way they should be told," Leguizamo said. "If Lin-Manuel pitched Hamilton to a studio, streamer, or network, it would have never seen the light of day. I know because I've been pitching to studios, streamers, and networks for 30 years—and they always have Hollywood wisdom excuses for not telling Latin stories just like they did with women's stories."
There's a particular freedom in theatre, added Taccone. It offers "the immediacy, the liveliness" of being in a house and sharing a perspective, he said. "In theatre, you can get people to experience collective joy—especially right now, when times are so dark and everyone is so aware of what's going on, they have to be reenergized and reconnect with each other. As many geniuses as there are doing film, I feel like the ability to collectively raise awareness and empathy is higher in theatre—that's why I do it."