'We Need More Women in Power'
A Q&A with the Women of 'The Last Ship'
Sting—yes, that Sting—believes in the power of women. "Women are very important in this play—men have messed it up, we really have," the Grammy®-winning songwriter, musician, and actor said in an interview last year about the musical he created and stars in, The Last Ship. "This is one of the main tropes of the play: it's women who save the day." Onstage at the Ahmanson January 14 – February 16, 2020, The Last Ship features a thrilling narrative inspired by Sting's own coming-of-age in working-class North East England.
The women serving as pillars of fortitude in a small, shipbuilding town are Meg Dawson and Peggy White, respectively embodied by the multitalented Frances McNamee and Jackie Morrison. Outstanding actors and vocalists, these female artists, indeed, remind audiences that "we need more women in power." So before The Last Ship undocks and sails away, we asked McNamee and Morrison about their creative influences, artistic processes, and how it feels to share a huge stage with an even bigger legend.
Frances McNamee
What inspires you as an artist?
The fact that every single person on this earth has a story to tell—a rich history that, more often than not, will go unreported and unseen. Art and songs and storytelling make the seemingly ordinary feel glorious. That's why we need it, and that's why I want to make it.
Sting has said "the agency of women" is a universal theme in The Last Ship—how does your character exemplify this idea?
Meg Dawson is a force of nature. She handles what life (and the play) throws at her with dignity and an unwillingness to go down without a fight. If you come and see the show you'll see that those qualities are the ones that rise up and conquer. Coming from the North East [of England], I've been lucky enough to be raised by women like that, and I think they're wonderfully represented in this show.
Art and songs and storytelling make the seemingly ordinary feel glorious. That's why we need it, and that's why I want to make it.
What has your favorite memory been so far working with Sting?
Performing on KTLA, singing "August Winds" [one of the musical numbers from The Last Ship] with him. And I have to say, it wasn't my favorite thing while it was happening! I was very nervous, it was very early—but it's a testament to his warmth and generosity, that focusing on him playing his guitar and harmonizing beautifully was what helped me keep it together. He's a very special man.
What has your biggest challenge been in playing this role?
Meg is a big sing. The role requires a lot of vocal stamina but also a lot of raw emotion, and the balance between that and perfect technique don't always mix, so achieving both is a constant challenge. But a great one.
What do you want The Last Ship audiences to take away from the show?
I want them to have heard a beautiful score sung really well, to have heard an important story about the past, and to take away the message that we are stronger together, into the future.
Jackie Morrison
What's your favorite thing about this cast and creative team?
The wealth of talent onstage and off is immense. The sound created onstage by the company and musicians is electrifying. There is a great sense of unity amongst the company which is reflected in the show. I feel privileged to be working with the incredible creative team that is Sting, Rob Mathes, and Richard John.
Where does the strength of your character, Peggy White, lie?
Peggy, to me, is the backbone of the community. She uses reason and peaceful negotiation, rallying the women together to defend the shipyard. The solidarity of women is a force to be reckoned with.
How did you prepare yourself for the role?
I'd love to tell you something more interesting, but I basically learned my lines, had several singing lessons, and went to rehearsals.
What has your favorite memory been so far of working with Sting?
At points when our voices lock together it's the most fantastic, musical buzz.
What's one thing you'd encourage audience members to think about after seeing The Last Ship?
I hope the audience leaves feeling inspired by the strength there is in community. And that the thrilling sound the company creates onstage stays with them.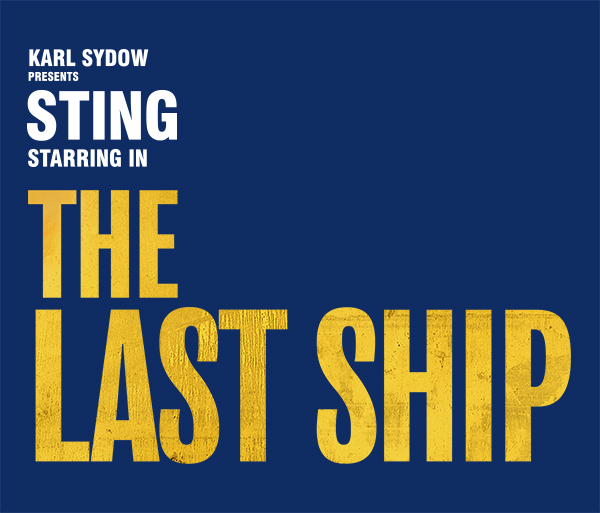 Onstage at the Ahmanson Theatre January 14 – February 16, 2020
Buy Tickets