Remembering How to Swim with Mike Birbiglia
Mike Birbiglia's The Old Man and the Pool begins performances at the end of July at the Mark Taper Forum. This is his second production with Center Theatre Group, his first being The New One, which played at the Ahmanson Theatre in 2019. It is also his fifth solo production with both director Seth Barrish and scenic designer Beowulf Boritt.
Through his new one-man show, Birbiglia tackles life, death, and the unexpected gradations between them. We sat down with Birbiglia to chat about his return to both live performance and Los Angeles and his creative process.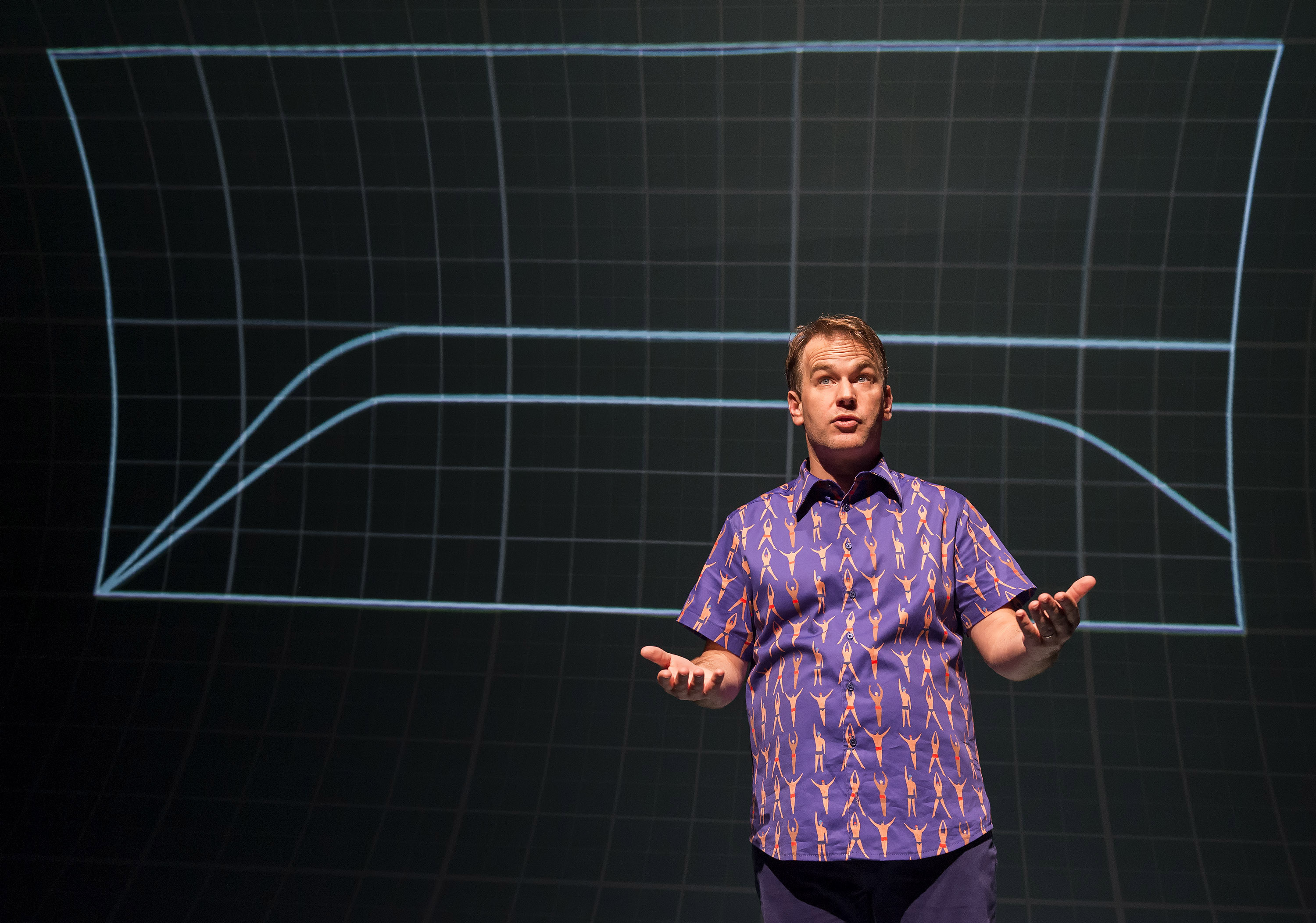 WHAT IS IT LIKE TO RETURN TO LIVE PERFORMANCE AFTER THE PANDEMIC?
In the last few months, getting back to the theatre experience has been such a revelatory thing. As an audience member, it's that thing where you forget what it is like. I talk about swimming in the show, but it is like going swimming after ten years and going, "Oh, right, swimming!" I feel like theatre [is] like that right now. We're going back to theatre and going, "Oh my gosh, I forgot about theatre."
WHAT WAS THE INSPIRATION FOR AND PROCESS BEHIND THE OLD MAN AND THE POOL?
I've been developing this show since 2019 and [each show] is always different, you know? Like, Sleepwalk with Me, that was a story that was churning inside of me for a bunch of years. Whenever you write your first 'thing,' I feel like it's the story you've been waiting to tell forever, and with your second show, I feel like you're digging into areas of your life that you maybe didn't expect to dig into; and in Thank God for Jokes, it was sort of an obsession with jokes and the meaning behind them and our personal experience with jokes. And with The Old Man and the Pool, I have always thought about mortality and death and the thing that snuck up on me when I started writing it at age 40 was the cliches of getting older. You know, "You're over the hill." I never understood the cliches until I got on the hill.
WHAT DRAWS YOU TO SOLO PERFORMANCE AS A MEDIUM? HOW DO YOU FEEL THE MEDIUM DIFFERS FROM OTHER TYPES OF PERFORMANCE?
I was originally drawn to solo theatre because I was a screenwriting and playwrighting major in college and, of course, as this naïve college student, I thought, as soon I graduated from college, I'm going to apply for all [of] these playwrighting jobs that are available. And then I realized, "Oh, that doesn't exist." It was a real eye-opening thing. And so, it was my professor, John Glavin, in college, [who] said you should just write a solo play because you're a performer and it's inexpensive and you can put it up anywhere. And that's when I first started writing Sleepwalk With Me.
The longer I've done solo plays, the more I become intrigued by this idea that there's no studio, there's no network, there's no gatekeeper. The buck stops with you as a writer. And that's scary, but it's also exciting.
There's not that many people who do types of shows like this. My shows, their goal is to be funny. And then their secondary goal is hopefully people feel something or see themselves in the story. Some people call them solo plays, some people call them plays, some people call them monologues. My answer is, whatever it is to you. When I go to the theatre, I want to laugh and I want to feel something and if that means there's one person on stage, great, and if there's forty, that's great too. I think there's merit in all of that. [But] when I see a great solo play, I love it, because I think, "Well, this has got to be the oldest art form right there, one person talking to one or more people."
WHAT DO YOU HOPE AUDIENCES TAKE AWAY FROM THE SHOW? WHAT'S THE MOST REWARDING PART OF THE PRODUCTION EXPERIENCE?
I think that the most rewarding thing about doing the show is [that] I talk about different medical issues I've dealt with over the years and...[I] get so many messages from people on Instagram or emails from people [who are] dealing with similar medical struggles. The comedy I really appreciate is when someone is giving themselves [and] their personal story over to the audience. And the audience can take away from it what they will and can see themselves in it. I think that the most rewarding moments of the show along the way have been throwing something onstage and thinking to myself, "Maybe this is funny," and then, when hearing people laugh, going, "Oh, that's something people experience." And that sort of harkens back to what's exciting about going back to the theatre — you find out in person what people actually relate to.
HOW ARE YOU FEELING ABOUT BRINGING THIS SHOW TO LOS ANGELES?
I'm excited to come to Los Angeles and premiere the show. I'm always afraid of Los Angeles. I feel like I've been perennially rejected by Los Angeles as an industry and so I always feel self-conscious performing there to some degree. But between my relationship with CTG and my relationship with The Largo and a few other places over the years, I do feel actually very at home there now. But for years I felt so self-conscious about being in Los Angeles because I always felt, no matter where you go, you're at work. It's one of those one-industry towns where everybody always feels like they're at work. But then when I performed at the Ahmanson [Theatre], it turned around my experience of Los Angeles.
I lived there for a couple of months and it was interesting, but this was my sort of own ignorance of Los Angeles. If you just come to Los Angeles for work and you don't live there, you don't realize how many great artists and lovers and appreciators of art live [here]. And in the community, like at CTG, they come out and they join together, and it's very heartwarming.
WHAT ADVICE DO YOU HAVE FOR ASPIRING STORYTELLERS, WRITERS, COMEDIANS?
It's funny, because that's what my podcast is all about. In the pandemic, I developed this podcast called Working it Out where I work out new material and ideas [with] people like John Mulaney and Hannah Gadsby and Ira Glass and all kinds of folks hashing out ideas. I try to relate the lessons of the creative process to anyone starting out because, ultimately, a majority of us are starting out. And I've found in the 75 episodes of [that] podcast is most creators say create on any level. Eventually, you get better and you learn things about yourself and what it is you want to say. So even if you just get those things—mission accomplished. There's no real downside to it. Maybe it takes off, maybe one of your plays gets seen. But the act of doing it can't be undersold. I just write in my journal, for example, and I read a couple of entries, but some of my most gratifying writing is in my journal for myself. Nobody can take that away from you. Unless they literally take it away from you. In which case, they can take it away from you.
MIKE BIRBIGLIA: THE OLD MAN AND THE POOL
NOW PLAYING
JULY 27 – AUGUST 28, 2022
TOTAL RUN TIME: approx. 85 minutes with no intermission