Making a new home at Abernethy's
While the venues at the Music Center each house a season of shows, Abernethy's on the Jerry Moss Plaza hosts a season of chefs as a part of the Emerging Chef Series. The first chef of 2023 is chef Lenora Marouani of Barsha, a restaurant in Hermosa Beach, and Barsha Wines & Spirits in Manhattan Beach.
Family has always played a role in Lenora's cooking. She is "deeply inspired by the moms" in her life.
Her mother raised Lenora and her brother on her own, sometimes working multiple jobs. "That's what actually pushed me into the kitchen at a young age," she said. "Opening up [the] fridge and trying to make something out of whatever was in there." As her mother had more time to cook, Lenora said she experienced a journey of growth and experimentation in the kitchen. Lenora has now been cooking and working in restaurants for over twenty years. After cooking for her family and taking a home economics class in high school, she attended L.A. Trade Technical College for two years to earn a culinary degree. From there, she traveled the world and worked in kitchens in Los Angeles and Las Vegas. She met her husband, Adnen Marouani, while the two worked in the kitchen of Caesar's Place. She and Adnen opened Barsha in 2012, first as a wine bar so that they could start a family. Now, the two collaborate at the restaurant and at Abernethy's—Lenora on the food and Adnen on the wine. There's another family member who has helped with the wine as well—one of their two daughters designed the label on the orange wine offered on the menu.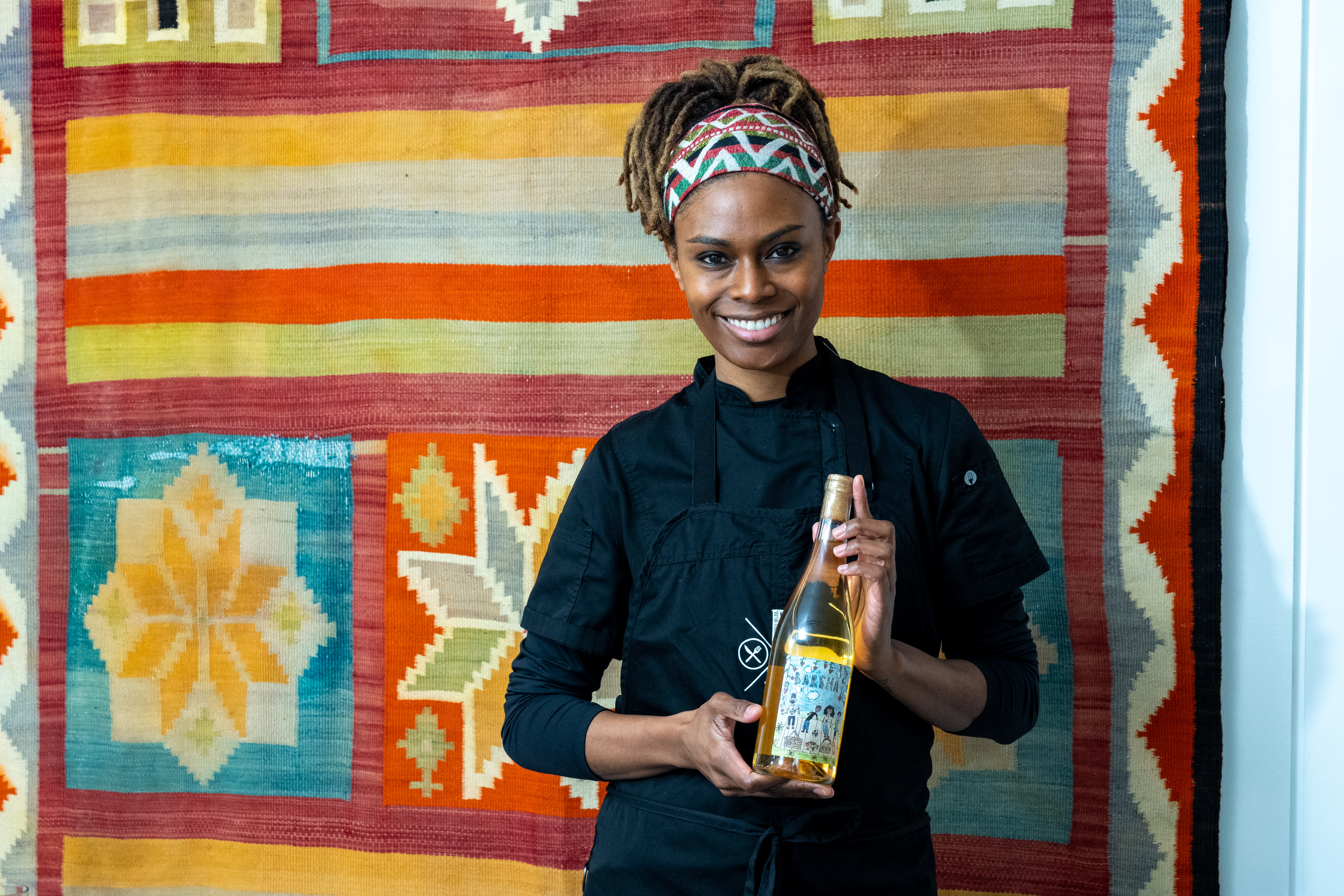 Visiting her husband's family in Tunisia was an important learning experience and source of inspiration for Lenora and her menu. She was nervous about making a good impression and entering a new culture but was welcomed quickly. "The warmth that I felt, the embrace, especially through the food, it was like a warm hug," she said. Lenora wants patrons to feel that warmth she felt in Tunisia when they walk into the restaurant. Hung on the wall is a handmade rug from the south of Tunisia, one that Lenora fell in love with at first sight. "It's a little worn and I think that brings character to it," she said. "The warm and energetic notes of toasted orange, the earth from the brown and green, and the vibrant yet calming blue makes me feel at home. I want everyone to feel at home at Abernethy's!"
This color scheme continues throughout the space—the menu adorned with an orange, blue, and brown pattern, and tagines with orangish-brown and light blue details rest atop shelves over the bar. Lenora described how the clay tagines imbue a unique earthiness into the food, especially as it slowly cooks over coals for hours.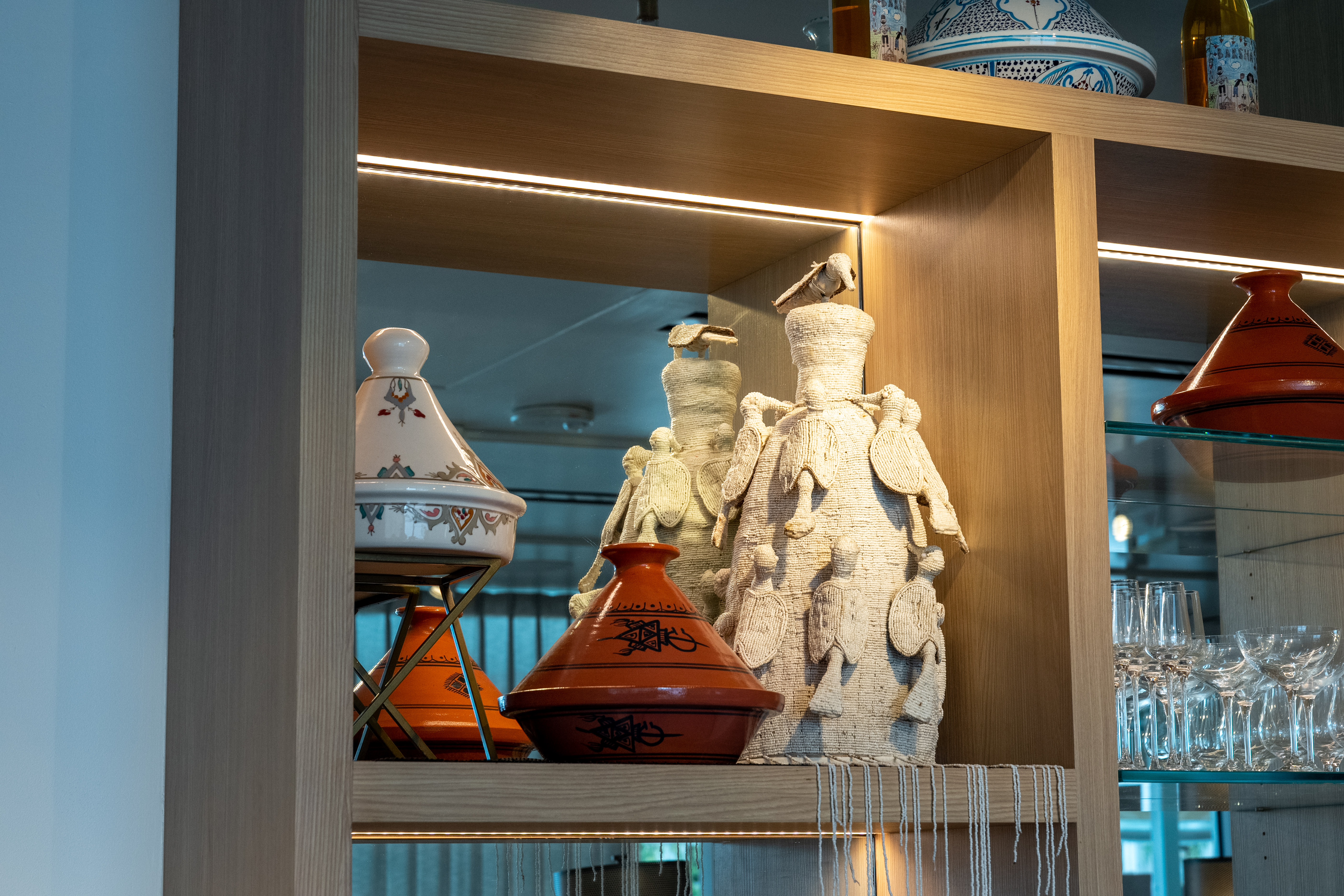 This complex layering of flavor is important to Tunisian cooking and Lenora's menu. She described her mother-in law's spice blend as "magic spice." A little pinch of Tabil, a spice blend consisting of coriander, caraway, turmeric, and more goes a long way and is cooked down with onions for a base to build upon.
In her menu at Abernethy's, Lenora is bringing her own twist to Tunisian flavors based on her experiences and travels. Preserved lemon adorns mussels with soyrizo and spiced shishito peppers. M'hamsa, sun-dried wheat grains, are chilled and paired with Mediterranean relish and feta or warm in a lamb meatball stew. The latter directly harkens back to her time in Tunisia with her husband when her in-laws slaughtered a lamb to cook in a stew for them that night. Lenora recounted it as one of her favorite meals. She experiments with both flavor and form as well, serving chickpeas in three ways—as falafel, purée, and stew.
Throughout the entire menu, Lenora hopes to evoke warmth and comfort. "Food has definitely been my constant in life," Lenora said. "Food has empowered me to expand my knowledge and fulfill my curiosity...We all need to find our outlets to grow and heal in life, and for me, it was food."
Lenora hopes patrons savor every bite. "Hopefully, they know a piece of my story," she said. "So, they can have a better understanding of each bite." Lenora's menu will be available at Abernethy's now through the end of May.
For more information, visit: abernethysla.com