The Black Artists of Yesterday, Today, and the Future
Recognizing and Remembering Black artists that have shaped Theatre: Charles Fuller
February is Black History Month, an annual observance that honors the important people and events in Black culture and the history of the United States. The month highlights the love, success, and bond Black people share and the contributions they have made as a community and for the country, while also honoring and recognizing the strife they have faced then and now. Though the month seeks to uplift Black joy, it also is a reminder of the work that must be done as a country to fight against systemic racism, police brutality, and the inequality Black people continue to face. Here at CTG, we are exploring Black history through the lens of Black artists who uplifted the theatre community.
This week, we are discussing the life and legacy of Charles Fuller, a Black playwright who opened doors for Black artists and inspired thousands through his work. Born in 1939, Fuller understood the importance of representation when he noticed the lack of books written by African American authors in his high school library. Fuller vowed to represent his culture by becoming an author and worked his entire life to fulfill his vow to himself. He attended Villanova University between 1956 and 1958, but soon joined the U.S. Army at twenty years old, serving in Japan and South Korea. In 1962, Fuller continued his education at La Salle University in Philadelphia, where he earned his doctorate in Fine Arts.
In 1969, Fuller wrote the drama piece The Village: A Party, which explored racial tensions between a group of mixed-race couples and earned critical notice for his work. He was committed to conversations regarding race and the Black experience, with works such as The Brownsville Raid, a play based on an altercation between Black soldiers and white civilians in Brownsville, Texas, in which the former were honorably discharged after being falsely accused of murder. Fuller had joined the Negro Ensemble Company in New York City, a group that produced shows that dealt with the complex and ignored aspects of the Black experience and the American experience. The group produced Fuller's play Zooman and the Sign, which won an Obie Award, and in 1981, presented what would be the group's most successful production, Charles Fuller's A Soldier's Play. Drawing from his own military experience, A Soldier's Play tells the story of the racially charged murder of a black sergeant on a Louisiana army base in 1944. 
Fuller wanted to discuss the positions of Black people in white society, telling Newsday in 1988 that "(the armed forces are) the only place where Black men have risen equal to white men." The show was a success Off-Broadway, earning Fuller a Pulitzer Prize in 1982, becoming only the second Black playwright to do so after Charles Gordone. At the time, the play did not show on Broadway, as Fuller refused to drop the last line in the play, "You'll have to get used to Black people being in charge." The show continued to be a critical success, and was produced as the 1984 film, A Soldier's Story.
Fuller wrote the screen adaptation of the play, and was nominated for an Academy Award, a Golden Globe Award, and a Writer's Guild of America Award. The play eventually opened on Broadway in 2020, nearly 40 years after its premiere. But before its Broadway run and film adaptation, A Soldier's Play opened at the Mark Taper Forum in 1982 starring Adolph Caesar and Denzel Washington. The play will return to Center Theatre Group this spring at the Ahmanson Theatre, starring Norm Lewis.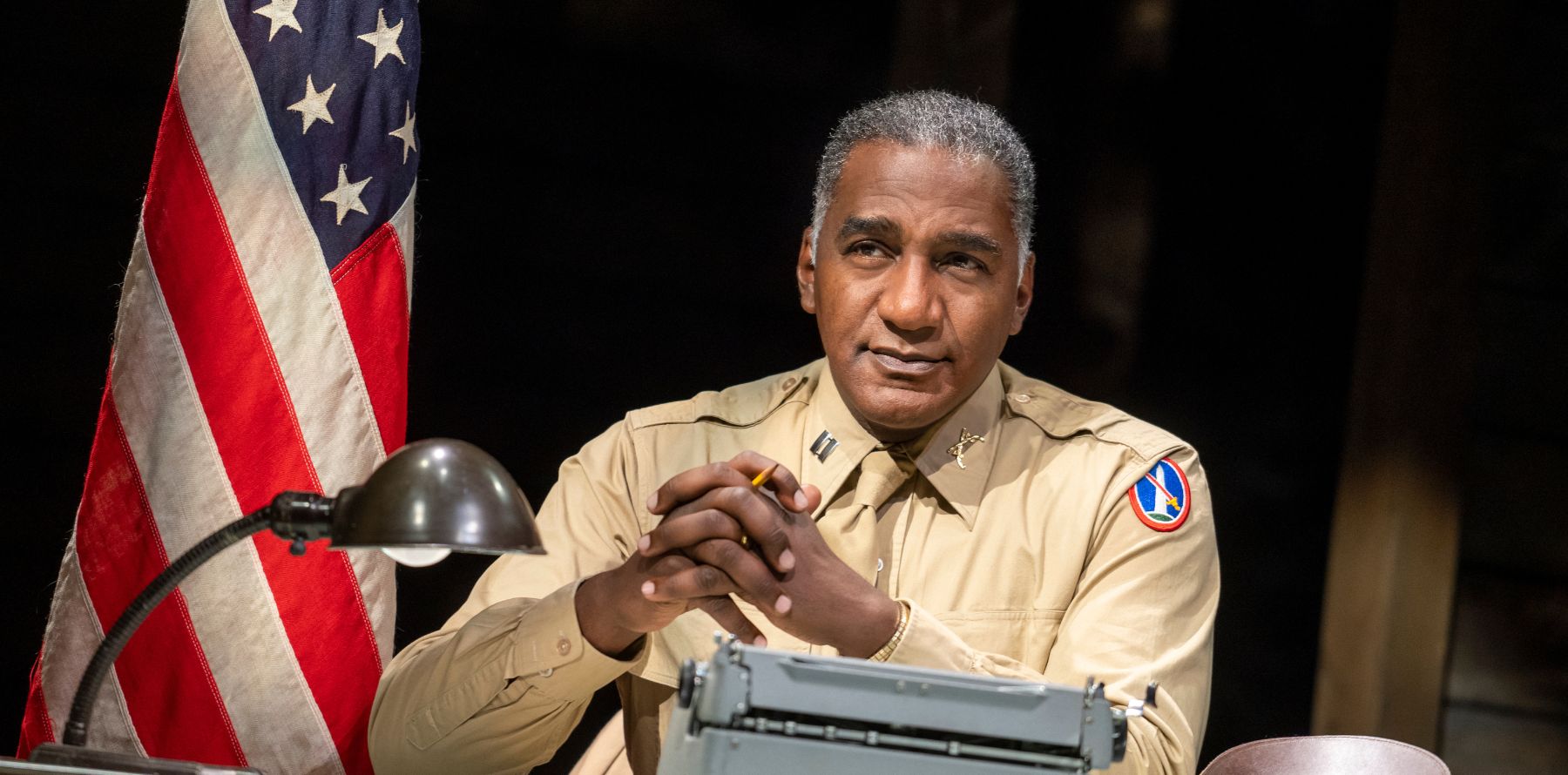 Norm Lewis as 'Captain Richard Davenport' in the National Tour of A Soldier's Play. Photo by Joan Marcus.
On October 3rd, 2022, Charles Fuller passed away at the age of 83. Fuller was an incredibly influential playwright who wrote about the experience of being Black in the United States with three-dimensional characters and a perspective free from the white gaze, something he felt many plays in the 60s and early 70s lacked. In an interview with Center Theatre Group in 1982, Fuller said: "In the 60s and early 70s many Black plays were directed at whites. They were mainly confrontational pieces, whose major concern was to address racism and white-black relationships in the country. Now we are much more concerned with examining ourselves, with looking at our own situations...Addressing white people about racial problems is not our only concern, or even our principal one. We'd never get anything done if that's all we did. There are a lot of other things that interest us—Black people who are in love, who have led all sorts of exciting lives, and who have had a fascinating history."
Charles Fuller understood the balance between the importance of sharing the difficulties Black individuals face in our country and uplifting the joy Black individuals experience every day. Though his work featured difficult conversations, it is undeniable that Fuller was instrumental in uplifting the Black community by sharing their stories while also providing opportunities and breaking barriers. Fuller continues to inspire audiences around the world through his work but reminds us that it is not the responsibility of the Black community to educate us all, but rather it is our responsibility as allies to learn about and experience the works Black individuals create.