The Legacy of Lucy Simon
How the Tony Award-nominated composer of 'The Secret Garden' lives on through music, gardens, and cake
A new production of The Secret Garden opened at Center Theatre Group this week, one of the first major productions of the Tony Award-winning show since its Broadway premiere in 1991 and the passing of the musical's composer, Lucy Simon. She was a Grammy Award-winning and Tony Award-nominated composer for Broadway, Folk, and Children's music.
Lucy passed away in October 2022 from metastatic breast cancer—just a day after her sister, Opera Singer Joanna Simon, passed away from thyroid cancer. The two sisters were not the only musical members of the family—they are survived by their sister Carly Simon, who is also a musician and played with Lucy in a duo known as The Simon Sisters in the 1960s. Singing runs in the family as well. One of Julie's favorite memories was singing with her mother.
"When my mom and I would sing, our voices would carry each other up into the heavens," Lucy's daughter Julie Simon said. "One of the things I knew would be hardest for me is not being able to sing with her anymore."
The "renewal of spring," Julie said was a "spiritual north star" for Lucy. Julie said one of Lucy's favorite places was a cherry tree grove in Central Park, which only blooms for about a week or two each year. Even after Julie moved to Los Angeles, the two would stroll through the grove, and the park at large, each time she would visit. Lucy knew every inch of the 843-acre park.
Towards the end of The Secret Garden, Archibald tells Mary, "In this, my lovely child, is your garden." Julie feels this line speaks directly to her. "I feel they're giving me the garden, I'm giving them the garden, I feel like my mom is looking down and giving it to us," Julie said.
The Secret Garden, like the perennial blooms of spring gardens, has the potential to renew itself with each production. When the show first opened on Broadway in 1991, Lucy said she and Marsha Norman, the lyricist and book writer for The Secret Garden, "had wanted to make changes from the day the show opened."
Norman said Lucy attended "nearly every show that was ever done" of The Secret Garden. Julie said she and her family received many notes from people involved in previous productions across the country. "[Lucy] was the most nurturing soul, as an artist and a mother, and it was important to her that everyone felt a part of that magic."
Even just before her passing, Lucy was involved in the current production at Center Theatre Group, approving the cuts and changes to the show and sitting in on many rehearsals. Julie attended rehearsals of this production as well. At the first rehearsal, Director Warren Carlyle expressed his gratitude for the involvement of both Lucy and Julie in the production process. Julie felt welcomed by the entire cast and creative team into the rehearsal, finding a new sense of family in the group, at a time when she needed it most.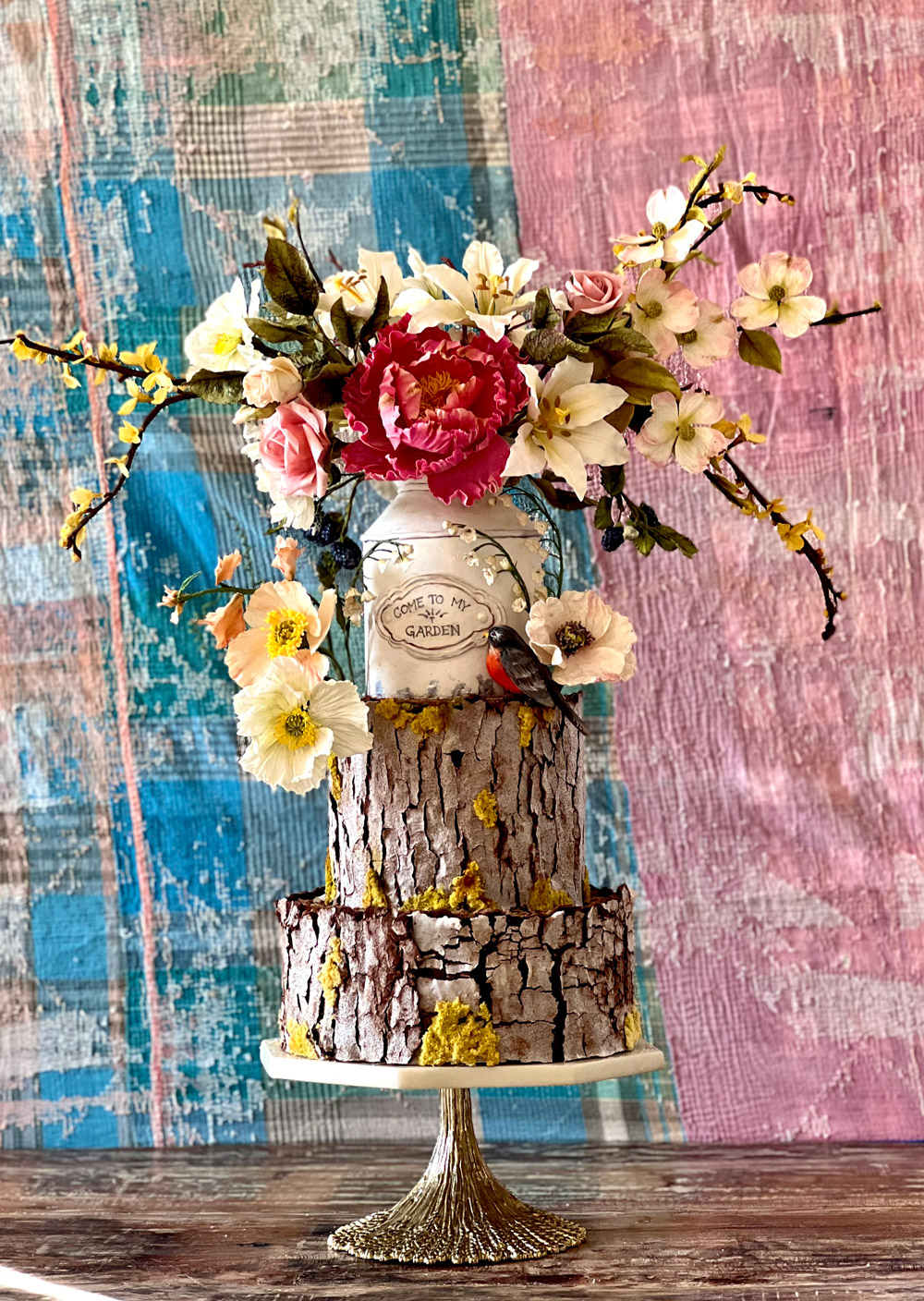 Julie celebrated this new family with an artistic creation of her own—a homemade cake gifted to the cast and crew on the day of the production's first preview, topped with flowers featured in the show. She and her mother shared a love for gardens and were inspired by them in their art. Like her mother's musical, Julie Simon Cakes are whimsical and dreamlike, inspired by fantastical florals. She creates flower petals from sugar that results in a cake topper reminiscent of an oil paint still-life. Lucy treated them as such and had many photographs of Julie's confectionary creations displayed on the walls of her home.
Julie spent much of the last month of Lucy's life with her, listening to The Secret Garden. Julie finds when Lily sings of the love, life, and healing in the garden, that it speaks to not only her mother, but to what audiences can take away from the show.
"I feel that's what my mom wanted for all of us," she said. "She wanted this garden to continue to grow." 
Want to learn more about Lucy Simon's legacy? Venture into The Secret Garden from now until March 26th. Join us for a special celebration of Lucy Simon's life at an exclusive post-show event on Thursday, March 2nd for American Express Card Members. Hosted by Sierra Boggess and other members of the cast of The Secret Garden, the event will weave songs and stories to celebrate the life and legacy of Lucy Simon.