ACCESS At Center Theatre Group
Thursday, May 18th is Global Accessibility Awareness Day, which is an annual event meant to inspire inclusion and greater access for individuals with different abilities.
Since 1980, Center Theatre Group has offered a variety of services for audience members who are hard of hearing or deaf, and/or low vision or blind through the ACCESS program. The Music Center also provides services for individuals who use mobility aids such as wheelchairs, walkers, and more.
The first production to use the ACCESS program was Children of a Lesser God at the Mark Taper Forum, which, at the time, was called Project D.A.T.E. (Deaf Access Theatrical Experience). Through this project, Center Theatre Group began offering American Sign Language (ASL) interpretations for certain performances.
 "ACCESS is a primary component of our customer service efforts to ensure that all of our patrons have a welcoming and engaging experience while attending our performances," said Shawn Robertson, Ticket Sales Director of Center Theatre Group. Robertson has always worked with the ACCESS program because of his role, but the work for him is personal, as one of his family members is blind. Robertson attended a performance of Mary Poppins with her, and said her experience was "life-changing."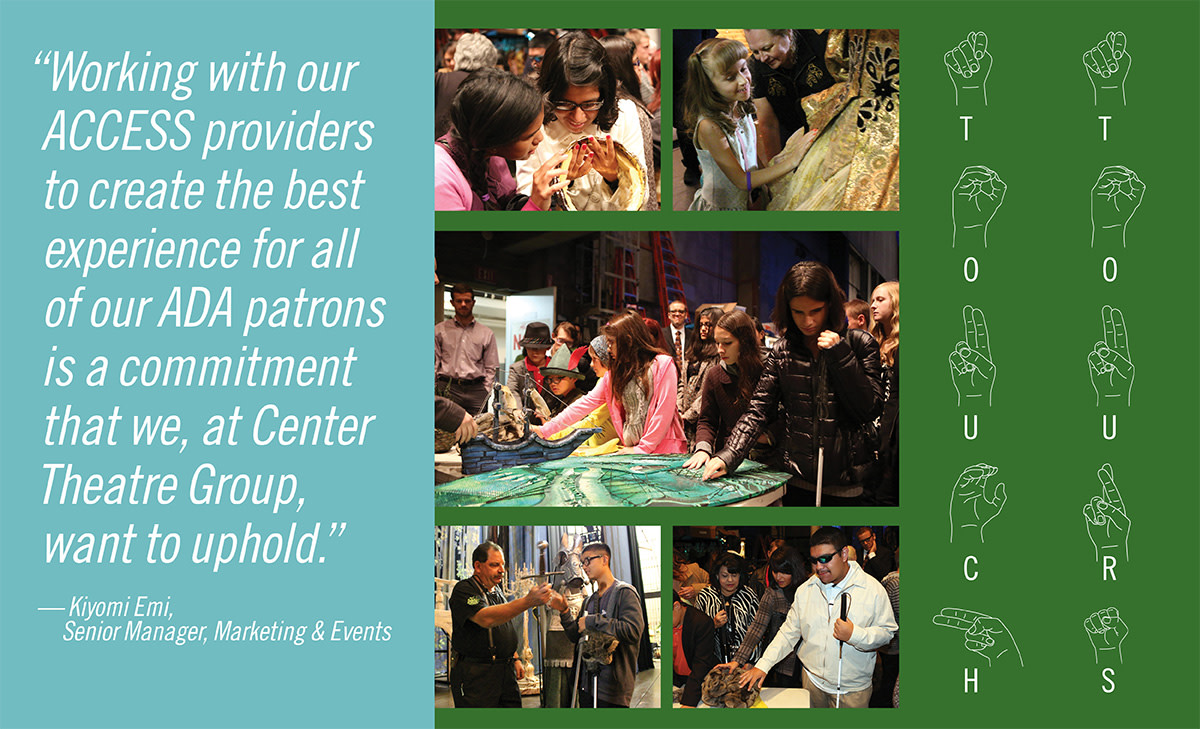 Kiyomi Emi, Senior Manager, Marketing Events & Partnerships, has worked on the ACCESS program and community outreach for over 20 years.
"Working with our ACCESS providers to create the best experience for all of our ADA patrons is a commitment that we, at Center Theatre Group, want to uphold," she said.
ASL Interpreters John Arce and Francine Stern both grew up in the deaf community and have worked with Center Theatre Group for over 25 years. Stern began her work at Center Theatre Group in 1982 on the original production of A Soldier's Play at the Mark Taper Forum as well as Twilight: Los Angeles, 1992—which both made their return to CTG this season.
"Our interpretation is meant to be seamless, but never steal focus," Stern said. "We are always throwing focus to the actors; we are just there to provide access."
Arce explained that ASL is its own language, with unique methods of communicating tone and emotion. Interpreters are often very expressive to paint a broader picture of the context beyond the dialogue onstage. "We convey the dialogue, the music, the essence of the speaker, some of the facial expressions," Arce said. "Everything is very visual for deaf [and hard of hearing people]."
Lucy Annett is another ASL interpreter with Center Theatre Group, who recently interpreted Kristina Wong, Sweatshop Overlord. Interpreting this show was personal for Annett, as an Asian American woman growing up in Southern California with similar family traditions of sewing. "That's exactly my story," Annett said.
Melody Stein is deaf and recently attended a performance of Kristina Wong, Sweatshop Overlord at the Kirk Douglas Theatre with ASL interpretation from Annett. "[Annett's] interpretation pulled me right into the play," Stein wrote in an email. "I felt all of the emotions of the play, especially when Kristina shared the highlights of the pandemic; these remembrances were heart-touching!"
Another option for hard of hearing or deaf patrons is open captioning. Audiences can follow along with the dialogue on stage with a device.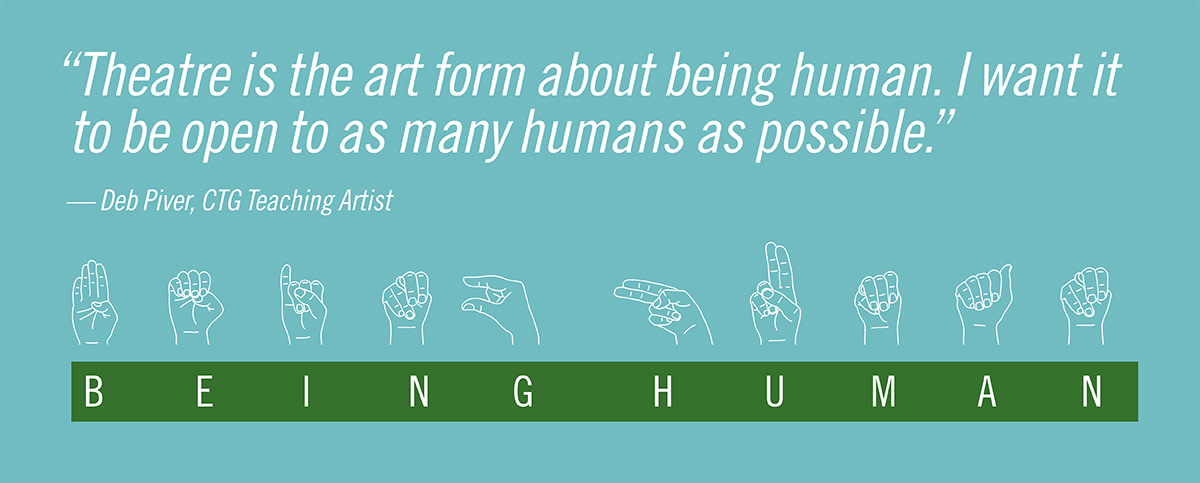 David Chu, of c2 Captioning, works on providing these services for Center Theatre Group. He said timing is everything for open captioning services. "We never give away the punchline, but we've got to be really tight with our timing so that a deaf [or hard of hearing] person and a hearing person at the same show laugh at the joke at the same time," Chu said. He added how TV and film closed captions can sometimes spoil a surprise or joke due to automation. Open captioning at the theatre will adjust based on the actor's timing—pausing for jokes or audience laughter.
For low vision or blind audience members, Center Theatre Group has previously offered touch tours to certain student matinee performances, sessions in which students are invited backstage to touch props, scenery pieces, or costumes before a show.
Touch tours are especially engaging for productions that rely heavily on prop work, like War Horse, for the full artistic concept. Through touching the puppets, audiences could conceptualize the scale of the titular horse as it matures over the course of the play. For Rodgers and Hammerstein's Cinderella, touch tour participants were able to feel Cinderella's gown and glass slipper, a mark of her stark transformation.
With the 2018 production of Come From Away specifically, there were many ideas and suggestions for the touch tour. While uncertain at first, the team was able to accommodate every request. Participants were able to touch the musical instruments, and set pieces, and even sat on the chairs onstage while the turntable spun to feel the motion of the passengers on the plane during the performance. Cast and crew members joined in on the fun as well.
Deb Piver is a Teaching Artist with Center Theatre Group's Education and Community Partnerships program who was able to witness how students who are low vision or blind engage with these experiences.
Beyond the additional sensory understanding of the production, Piver said that the ability to go backstage of a production is a special experience itself. "[You] feel like a VIP when you can go backstage at a production, that goes for everybody," she said. "Most of us don't get to go backstage at the Ahmanson."
"One of the best parts of the job is seeing the delight in the students who have just experienced a performance," Emi said. "They get to relate to what they heard on stage and actually touch props and costumes and experience set changes in ways most audience members never get to experience."
Another offering for low vision or blind audience members is audio description. Patrons can use a hearing aid device to hear descriptions of visual information onstage. This ranges from descriptions of the actors onstage, prop and set pieces, and action on stage. Deborah Lewis has worked in audio description services for many years at Center Theatre Group, starting with a production of The Scarlet Pimpernel at the Ahmanson Theatre in 2000.
"[Center Theatre Group has] been on the cutting edge of [audio description services]," Lewis said. "Other theatres have come to CTG to see what they do so they can do it themselves." 
The Music Center provides services for patrons with mobility aids across all venues. The Music Center Staff are able to assist patrons to, from, and around the plaza's theatres, restaurants, and parking structures. There are also mobility aids available to use throughout the evening.
All of the accessibility services are about providing options for the many needs of a variety of patrons.
"It's all about equity," Chu said. "We're trying to give the same experience while honoring the fact that it is a live performance."
Stern strives for increased intersectionality through her work as an ASL interpreter. "Accessibility and inclusivity and diversity are the future for access in the theatre," she said. "Our current mission [is] to very mindfully and intentionally bring in a more diverse group of interpreters to better represent what we are seeing onstage."
Annett also finds this diversity important and hopes that more deaf and hard of hearing community members can get involved in the production process of theatres and their programming. Greater connection to the deaf and hard of hearing community, Annett feels, can provide all audiences a "much more enriching cultural experience."
Lewis, too, hopes to bring in a new generation of audio describers to continue training and program offerings. As an audience member, Stein longs for greater promotion of these services to the communities they serve.
Piver hopes that additional and continued offerings will remove barriers of access to a wide range of audiences. "[Theatre] is the art form about being human," she said. "I want it to be open to as many humans as possible."
For audiences interested in these services, please visit: ctgla.org/access. 
For audiences interested in mobility aid services from The Music Center, call the Music Center Access Disability Line at 213-972-0777.