'Black Feminist Video Game'
On demand May 2 at 9pm – May 9 at 8:59pm PT
Price:
Sold Out
About Black Feminist Video Game
Enter Jonas: a biracial teenager with autism. Jonas broadcasts all aspects of his life online, including a disastrous first date with his crush, Nicole. Desperate to regain her affections, he dusts off a long-ignored gift from his mother—a classic 2D "Black feminist video game"— hopeful that the game will grant him the key to winning Nicole back. But Jonas soon discovers that, with only the Game Master and his friend Sabine to guide him, he must confront his own misperceptions of the women in his (real) life, or risk losing not only the game but also his first chance at love. In this mashup of live performance, video game design, and online interaction, Jonas and Sabine stream their play on Twitch and find their path through the game together. Along the way, you'll help (or hinder!) their progress by responding in real time to the choices they make.
Black Feminist Video Game is written by Darrel Alejandro Holnes, directed by Victoria Collado, and Game Design by Cookout Games. It follows close on the heels of The Civilians' smash hit Russian Troll Farm, which was heralded by The New York Times as one of the ten best shows of 2020. For this digital premiere production, tech expertise and artistic innovation are once again brought together for a unique online theatrical experience.
This production is a national collaboration with presenters 59E59, Center Theatre Group, Oregon Shakespeare Festival, and co-commissioner Williams Center for the Arts, Lafayette College.
About Darrel Alejandro Holnes (Playwright)
Darrel Alejandro Holnes is a Panamanian-American writer, performer, and educator. His plays have received productions or readings at the Kennedy Center for the Arts American College Theater Festival (KCACTF), The Brick Theater, Kitchen Theater Company, Pregones Theater/PRTT, Primary Stages, and elsewhere. He is a member of the Lincoln Center Director's Lab, Civilians R&D Group, Page 73's Interstate 73 Writers Workshop, and other groups. His play, Starry Night, was a finalist for the Eugene O'Neill Theater Center's National Playwrights Conference, the Princess Grace Award in Playwriting, and several other awards. His plays include Black Feminist Video Game, Bayano, Franklin Ave, The Burning Room, and others. www.darrelholnes.com
About Victoria Collado (Director)
Victoria Collado is a Cuban-American, Miami born and raised director currently living and working in NYC. She recently directed the immersive theatre piece, AMPARO, written by Vanessa Garcia in partnership with Havana Club by Bacardi. Victoria has directed for Repertorio Español, MCC Youth Company, Sheen Center, IATI theatre, Juggerknot Theatre Co., Microteatro Miami, Columbia University and others. Her production El Burlador de Sevilla received various nominations from the ACE awards, and won for Outstanding Ensemble. She was a Van Lier Directing Fellow with Repertorio Español, part of the Directing Corps in the Williamstown Theatre Festival, and a recipient of the SDCF Observership. Victoria was the assistant director to Tony Taccone in John Leguizamo's Latin History For Morons on Broadway. www.victoriacollado.com
About The Civilians
Founded by an ensemble and Artistic Director Steve Cosson in 2001, The Civilians is dedicated to ambitions and exuberant new works that dynamically engage with the broader social and political forces that shape our world. The company has toured to over 50 venues in the US and abroad and co-produced with leading regional and Off-Broadway theaters. Achievements include two BAM Next Wave Festivals; the first theater company in residence at the Metropolitan Museum of Art; and the creation of numerous critically-acclaimed works ranging from verbatim "investigative" shows such as Gone Missing and This Beautiful City, to works by some of America's leading playwrights such as Anne Washburn's Mr. Burns, a post-electric play, cited as the 4th best American play of the past 25 years by The New York Times.
View more: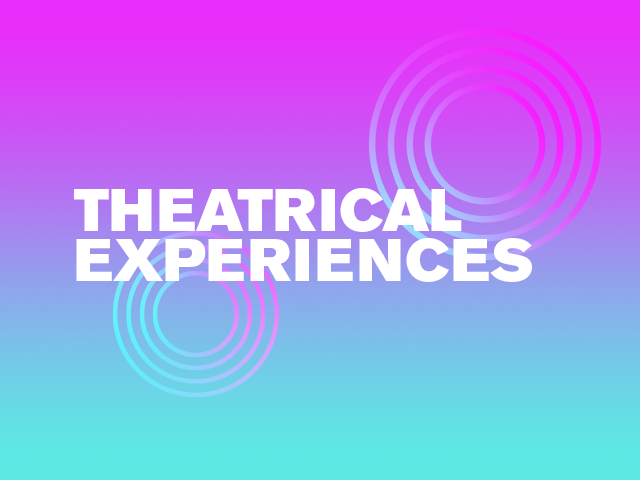 PREMIUM EVENT
$10 (for all guests)
Center Theatre Group presents
The Civilians production of
BLACK FEMINIST VIDEO GAME
Written By Darrel Alejandro Holnes
Directed By Victoria Collado
A new digital theatre experience
TOTAL RUN TIME: Approx. one hour and five minutes (pausable)
Black Feminist Video Game contains mature themes, explicit language, and some references not appropriate for children under 16.
---

Depending on your digital device, you may be able to watch many of our Digital Stage events on your SmartTV. Experiencing buffering or playback issues? Find details.
Playlist