Not a Moment, But a Movement
'Black Nourishment'
Encore June 19, 7am – 11:59pm PT
Price:
Sold Out
Free Encore Screening in Celebration of Juneteenth
In celebration of Juneteenth, we are pleased to present a free encore presentation of Black Nourishment from 7am – 11:59pm PT on June 19, 2021.
---
About Black Nourishment
Introduced by Ron Cephas Jones and directed by Tyrone Davis and Bruce A. Lemon Jr., the second episode of Not a Moment, But a Movement features a cadre of spoken word artists from Cleveland, Atlanta, Oakland, and Los Angeles who explore the joy, the beauty, the complexities, and vast experiences of what it means to be nourished as a Black person in America.
FEATURING
Cleveland: Chris Webb, Siaara Freeman
Atlanta: Royce Hall, Jali Ajani Nafula
Oakland: Shawn William, Prentice Powell
Los Angeles: Yazmin Monet Watkins, Tru Sound, Alyesha Wise
Music by Sugi Dakks
Directed by Tyrone Davis & Bruce A. Lemon Jr.
---
Pre-Show Panel
Sustaining the Movement: Elevating Black Artists, the second in our series of panel conversations as part of Not a Moment, But a Movement, features panelists Zhailon Levingston (Broadway Advocacy Coalition), Jamila Webb (First Fifteen), and Courtney Peck (Cast Black Talent) and moderator Bruce A. Lemon, Jr.
This event is part of Center Theatre Group's The Forum, a series of deep and uplifting discussions with artists and creators as we move American Theatre forward.
---
Tyrone Davis wanted to tell Black stories with the people who have already been laying down the groundwork for Black theatre in America. He wanted to utilize the power of Center Theatre Group's platform to amplify Black stories, artists, and organizations like Watts Village Theater Company and The Fire This Time Festival that have already been telling these stories. "I wanted to show that folks, especially those from marginalized communities, have a place at Center Theatre Group and will be taken care of and cultivated as artists."

Read More
---
About the Poets
Siaara Freeman is from Cleveland, Ohio, where she is the current Lake Erie Siren, a two-time nominee for the pushcart prize, a finalist for the 2017 button poetry chapbook competition, a 2017 bettering American poet and Best Of The Net Poet, a 2018 winter tangerine chapbook fellow, and a 2018 Poetry Foundation incubator fellow. Siaara is a four-year PinkDoor Fellow and 2018 Pinkdoor Faculty member. She is a teaching artist for Center For Arts Inspired Learning and For the Sisterhood Project in conjunction with the Anisfieldwolf Foundation. She is the co-founder of Outsiders Queer Midwest Writers Retreat. In her spare time she is growing her afro so tall God mistakes it for a microphone and tries to speak through her. Chances are she's by a lake, thinking about Toni Morrison and talking to ghosts.
Royce Hall (Chinyelu Alimayu) is an Atlanta-based recording artist, performance poet, author, actor/screenplay writer, multi-instrumentalist, MC, vocalist, composer, songwriter, arranger, activist, and public speaker. As an actor, Royce can be seen as a lead character in stage plays and series/films such as Zora! Let the People Sing, Beyond Betrayal, Lying In Bed, and more. From his EP, FIFTH: Dapper Liberation, songs such as "Blue In June," "My Air" and "So Much" are winning the hearts of listeners near and far. Royce has opened for artists including Brian McKnight, Talib Kweli, The Floacist, KRS One, K. Michelle, Donnell Jones, MuMu Fresh, and more. He is preparing for production of his first film, "The Box In The Corner." As a writer, he released his first book of poetry, Rioting At Dawn, in 2015 and his second, Poetix, in 2018. Royce is an alum of FAMU (Florida A&M University).
Jali Ajani Nafula (Marquis D. Stroud) is an Atlanta native. Born into a matriarchal household with patriarchal tendencies, he learned love and learned black people in an odd way. He is a Poet, a Deacon, an Elder, a brother, and a lover to many. He is committed to the consistent investment in community, black institution longevity, the refining of black masculinity, and the exhortation of black women. And lastly, he is committed to refining the definition and perception of love. He is a spoken word artist. His work can be found on all digital platforms! His recordings include "Love Song," "La'neice: A Tribute," and "Visions to Remember."
Prentice Powell approaches every stage from London to South Africa, sharing his gift while allowing his art to speak for itself. As the former host/curator of the prestigious open mic Mouth Off Wednesdays in Oakland California for six years, Prentice is an educator, family man, writer, and a highly accomplished spoken word artist. He has been recognized as a National Slam Finalist and Grand Slam Champion and is also a NAACP Image Award Nominee. Powell has shared the stage with Stevie Wonder, The Roots, Sevyn Streeter, Anthony Hamilton, Faith Evans, and along with his fellow Fiveology members, opened for Jill Scott during her 2013 Summer Tour. Prentice is the only poet to have appeared on all six seasons of Lexus Verses & Flow with eleven episodes to his credit and became the only artist to perform on the Arsenio Hall Show, a record three times.
Tru Sound is a fusion artist, utilizing the visual and performing arts to explore culture, identity, and society. Born in Los Angeles and with roots in Belize, his artistry is informed by a diverse and enriched upbringing. He is gearing up for the release of his debut album this summer.
Yazmin Monet Watkins is a poet, comedian, writer, actress, content creator, educator, and organizer. Touring her intimate yet political poetry from Obama's White House to Johannesburg, and empowering students from Harvard to youth prisons, Watkins' body of work weaves art and activism, exploring the intersection of race, gender, sexuality, self-love and all things Black Girl Magic. Watkins is represented by United Talent Agency and creates with her all Black female comedy group, Obama's Other Daughters. You can see their work on Comedy Central and on their new Shondaland podcast You Down? Watkins serves as the co-chair of the Arts & Culture committee for Black Lives Matter Los Angeles. Once Beyoncé said she liked her hair. yazminmonetwatkins.com
Chris Webb is a poet, filmmaker, and content creator from Cleveland, Ohio. He attended the Royal Scottish Academy of Music and Drama in Glasgow, Scotland, and is a graduate of the California Institute of the Arts in Los Angeles, California. From 2015–20, Chris was a mainstay of the Poet's in Autumn tour; a faith-based poetry collective that travels to Africa, the U.K., the Caribbean, and 40 U.S. cities in a calendar year. As a filmmaker, Chris won a nationwide 2019 competition with the Tribeca Film Institute and was awarded full funding to produce an original film about marginalized voices in his city. In 2020, Chris began a partnership with WKYC-3 (his city's local news station) to create bi-weekly, "mini-doc"-style segments about the good in his community.
Shawn William is a captivating, multi-talented award artist, writer, National Poetry Slam Finalist and curator. Shawn's vivid storytelling, clever word play, comedic timing and relatable tales is so breathtaking and refreshing that after one of his sets you realized you were taking on an emotional rollercoaster. Shawn has the uncanny knack of making people cry tears of sympathy and laughter. 1/5 of the critically acclaimed writing collective Fiveology, Shawn has toured with Grammy Award winner Jill Scott, featured on Verses and Flow (TVOne), The Arsenio Show (UPN), Radio City Music Hall while selected for residency at The Kennedy Center in Washington, DC. With two books for published release and two television shows on the way the future is looking bright for this talented artist and author.
Alyesha Wise is an award-winning, published poet, teaching artist, and TEDx speaker from Camden, N.J. Currently residing in L.A., she is the co-founder of Spoken Literature Art Movement, an organization providing poetry education and extensive programming for poets and the Director of Program Development for Street Poets, Inc., an organization mostly serving juvenile injustice-involved youth with mentorship and arts programming. Alyesha has been featured on platforms and in publications such as OWN TV, The Huffington Post, Bustle, Afropunk, PBS, POPSUGAR, Buzzfeed, and more. Other collabs include the ACLU, The Shabazz Center, The Nantucket Project, Brave New Films, and the Google Interstellar Project. However, Wise believes that her greatest collab is in her advocacy of love and liberation. Ron Howard has described Alyesha's work as "very powerful."
About the Musician
Sugi Dakks is the brainchild of Kyle Donald, originally from Lakeport, CA, and is now based in Los Angeles. A college graduate in Jazz Piano and a Cuspi National Slam Poetry finalist, his dual interests in poetry and music merged into the jazz-tinged hip-hop sound that is Sugi Dakks. His first singles have reached over 1 million plays on Spotify, Soundcloud, and YouTube and have been showcased on the TV series Power. Sugi Dakks has been performing around Los Angeles, including at The Avalon, The Echo, The Mint, multiple SoFar Sounds shows, The Viper Room, Whiskey-A-Go-Go, The Hi Hat, The Study, and multiple protest-oriented events. Sugi Dakks was also a producer on Grammy-nominated Artist Wale's latest album, Wow, That's Crazy, and Grammy-nominated artist Chika's debut EP, Industry Games.
About Not a Moment, But a Movement
Not a Moment, But a Movement is a series of interdisciplinary events that celebrates and amplifies Black artists and stories. Presented in collaboration with The Fire This Time Festival of NYC and Watts Village Theater Company, each episode will feature the work of a visual artist, a musician, and theatre artists. Each event is paired with a panel discussion to create a uniquely comprehensive cultural experience. Each event is premiered over a free weekend and is paired with a panel discussion to create a uniquely comprehensive cultural experience.
Not a Moment, But a Movement is filmed Live at the KDT exclusively for The Digital Stage
View more: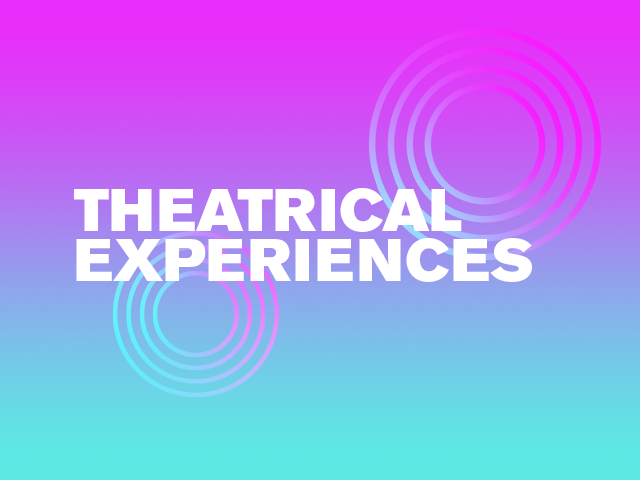 DIGITAL STAGE+
$10 (or free for members)
Premieres with a FREE screening beginning Thursday, April 15 at 5pm PT through Friday, April 30 at 11:59pm PT
Available on demand beginning Saturday, May 1, 2021, 10:00am PT
Expires on Tuesday, June 15, 2021, 11:59pm PT
Watts Village Theater Company, The Fire This Time Festival, and Center Theatre Group present:
NOT A MOMENT, BUT A MOVEMENT
A series of events that amplify and center Black artists
TOTAL RUN TIME: approx. 47 minutes (pausable)
Recommended for ages 14+ for mature language.
---

Depending on your digital device, you may be able to watch many of our Digital Stage events on your SmartTV. Experiencing buffering or playback issues? Find details.
Playlist