Creating Connection Through Community Conversations
"Los Angeles is a city where, in many ways, it is hard to connect with other human beings," said Center Theatre Group Director of Social Strategy, Innovation and Impact Leslie Johnson.
Johnson is in a unique position of being able to—and even tasked with—creating spaces for people to connect and communicate, and with our new Community Conversations program, she is doing just that. In the process, she is broadening the points of view presented by Center Theatre Group and the ways in which we invite audiences to experience the art on our stages.
The Conversations launched last summer as a collaboration among Center Theatre Group's marketing, artistic, and education and community partnerships departments. The idea was to allow audiences to explore the divisive and complex themes of our production of Disgraced at the Mark Taper Forum. Audience members were invited into Center Theatre Group's rehearsal space at The Music Center Annex before the show to hear leaders in the Muslim community, including renowned writer Reza Aslan and Grammy winner-turned-activist Ani Zonneveld, discuss topics like cultural appropriation, Islam in the media, and unconscious bias. The talks were so successful that Johnson extended them to Ma Rainey's Black Bottom, where scholars and thinkers like MacArthur Genius Josh Kun discussed authenticity in African American music, artistic identity, and even Beyoncé. Now, the Conversations are becoming a permanent part of Center Theatre Group's Taper programming, with an ongoing series of these free pre-show events scheduled for each show in the upcoming season.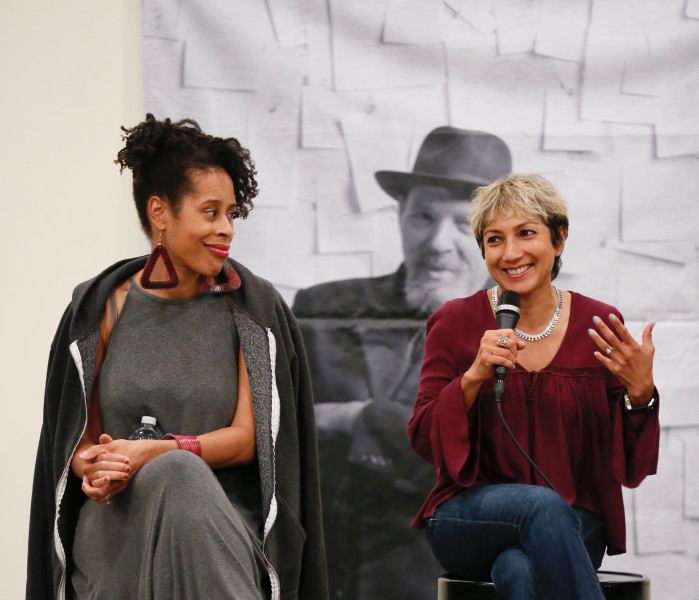 "The Community Conversations are that moment when we ask people in our community to help us make relevant the themes and ideas that are alive on our stage. Asking thought leaders to come and spark that conversation is exciting," said Johnson.
These thought leaders, said Johnson, are "grappling with the issues and ideas on our stages in real life. By inviting them into the room, we are able to hear someone who lives these topics every day discuss them in the context of the show." Doing so creates a space to talk about timely, important subjects we might shy away from in our own daily lives. "We are connecting the art on our stages to our community and connecting community members to one another," said Johnson.
The Conversations thus not only create a more dynamic theatregoing experience; they also allow Center Theatre Group to closely interact with the community we live in.
"Our community needs these conversations, the opportunity to sit and talk, and look one another in the face and listen and gain perspective and hear different points of view. Every community needs that. That's really a core value that we are bringing as an institution to Los Angeles. It's a place where we can talk about topics that really matter in our daily lives in a safe way, in a healthy way, in an informed way," said Johnson.
The Conversations acknowledge that theatre is much more than entertainment—it is an opportunity for communities to come together, to see their stories told, to put themselves in the shoes of others, and to provide them with catharsis. "I think about how divided our country is, in so many ways. And maybe one of the solutions is to have more opportunities for people to sit together in real time, breathing the same air, talking about issues, and through avenues like theatre, engaging with each other in a positive way," said Johnson.
Listen to recent Community Conversations