The Making of 'Come From Away'
Creators Irene Sankoff and David Hein and Those Who Lived the Story in Conversation with Nia Vardalos
Twenty-eight hours after leaving Paris, France for Dallas, Texas, American Airlines Captain Beverley Bass and her passengers and crew disembarked in the Newfoundland, Canada town of Gander, population approximately 10,000. "Most airline pilots will spend their entire career knowing about Gander but never landing there," recalled Bass of the location of the first sizable airport in the northeastern part of the continent. "But we knew as soon as we exited and walked into the terminal that we had landed in a very special place because we got off the airplane about 7:30 on the morning of September 12, and we walked into a terminal lined with tables of food."
The people of Gander "had actually stayed up all night long" preparing meals for Bass and the other 7,000 visitors from around the world who had been stranded there. Almost 17 years later, Bass still marveled at the generosity and kindness the people of Gander showed for her and her fellow "Come-From-Aways" in the days that followed September 11, 2001.
At an event hosted by the Consulate General of Canada in Los Angeles—who are supporting Come From Away's engagement at the Ahmanson November 28, 2018 – January 6, 2019—Bass, former Gander Mayor Claude Elliott, and Come From Away creators Irene Sankoff and David Hein discussed how the days after 9/11 unfolded in Gander and became a hit musical. The discussion was moderated by Canadian actor Nia Vardalos, who opened by asking Elliott, "What was your reaction when you heard about the Come-From-Aways coming?"
"Bring 'em on!" said Elliott. "We knew we'd have some visitors, and we wanted to make their stay as comfortable as possible." The stranded passengers and crews remained on their aircraft overnight, which gave Elliott and the rest of the Newfoundlanders time to prepare. We mobilized 450 volunteers to go to the airport, and they made up 7,000 lunchboxes to have, so when the people came off the plane, each person was given a lunchbox and a hug, said Elliott. We figured they needed compassion just as much as they needed food.
They also needed information. How do you deal with a planeload of passengers who are learning about what happened at the Twin Towers? Vardalos asked Bass.
We actually knew very little about what was going on because during that time most of us did not carry cell phones, said Bass. We went probably 30 hours before we ever saw a visual on TV as to what had really occurred. We did get a little bit of news from the BBC that was coming across our aircraft radio, but nothing from the US…so it was very disjointed.
We knew we were falling in love with the people, and the stories.
Meanwhile, Canadians Sankoff and Hein were living in New York City on 9/11. How, asked Vardalos, did they come to write Come From Away? A friend of ours was starting a program at a college in Ontario called the Canadian Music Theatre Project. He had actually approached, he said, about five other writing teams about the story of Gander, said Sankoff, and they all turned him down. But Sankoff and Hein connected with the story. They had seen how the people of New York came together and took care of one another in the aftermath of 9/11. Hearing the story of Gander sort of felt like something that was familiar to us. And David had grown up on Newfoundland music, said Sankoff. Hein told her, 'You have to understand, Newfoundland is music, so it has to be a musical.'
Sankoff and Hein traveled to Gander for the 10TH anniversary of 9/11. We found out there was going to be a commemoration ceremony happening there, and all these Come-From-Aways… were returning there, said Hein. It's a hard place to get out to. So 10 years later, it was an amazing testimony to the power of the friendships that had been created there, that people wanted to return there to commemorate the kindness they had seen. He added, There's all of this press out there looking for these five second sound bites from everyone, and we just wanted to hear every story. As he and Sankoff listened, We knew we were falling in love with the people, and the stories, and that was enough for us to go on and then try to tell almost 7,000 stories of the people who landed there and 9,000 stories of the people who were there, and so we tried to tell 16,000 stories in a 100-minute musical.
Vardalos lauded the Come From Away company for their ability to play more than one role. What I found so incredible is an actor onstage would be one character, they would turn, put on a hat, and be another character, she said. The resulting show is a kitchen party. Mayor, will you tell us what that is?
About 500 people in your living room, drinking, eating your food, and dancing, and probably spending the night, said Elliott.
It's community, said Hein. That's what we wanted to do with the show: we wanted to bring everyone into a kitchen party and say, 'You have a story as well; we're going to tell our story.'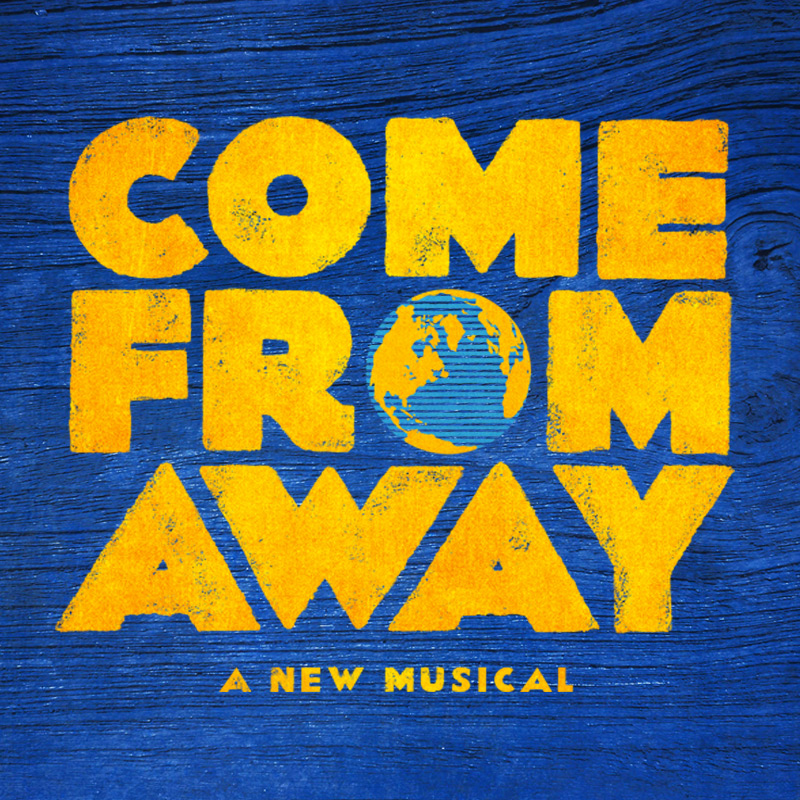 Onstage at the Ahmanson Theatre November 28, 2018 – January 6, 2019
Buy Tickets