30 to Curtain: Kevin McCollum and 'The Play That Goes Wrong'
"You're listening to "30 to Curtain," a Center Theatre Group podcast. I'm Doug Baker, Center Theatre Group's Producing Director and I'll be your guest host for this episode. I work closely with Artistic Director Michael Ritchie to bring productions to our three theaters, the Ahmanson Theatre, Mark Taper Forum and Kirk Douglas Theatre. Joining us for this episode of "30 to Curtain" is theatre producer Kevin McCollum. Kevin has produced some legendary Broadway shows throughout his career, including "Rent," "Avenue Q," "In the Heights," and "The Play That Goes Wrong," which joins us at the Ahmanson Theatre July 9 through August 11, 2019. I hope you enjoy the conversation and we look forward to seeing you at the theatre."
Doug Baker
Before we talk specifically about "The Play That Goes Wrong," I'd like to focus on the numerous projects CTG has had the pleasure, the fortunate situation of working with you on, because really we've had quite a rich history together, haven't we?
Kevin McCollum
You are my training ground. My past, my present, and it looks like my future as well, which I'm excited about.
Doug Baker
Indeed, indeed. We have produced together. We have partnered as producers, specifically on the world premiere of "The Drowsy Chaperone," "Minsky's." We recreated the incredibly beautiful production of "La Boheme" directed by Baz Luhrmann, that you produced on Broadway. We brought that to Los Angeles audiences only, thanks to your help. And you were a partner with us on the transfer of "Bengal Tiger at the Baghdad Zoo" moving to Broadway.
Of course, we've also presented a number of your amazing productions. Specifically "Rent," "Avenue Q," and quite recently, "Something Rotten!" And now we're going to move into "The Play That Goes Wrong."
Kevin McCollum
Well, first of all, let me say thank you for all that.
Doug Baker
You're welcome.
Kevin McCollum
But you're forgetting the most important thing we've done together. And this is before your time, Doug. I actually trod the boards at the Ahmanson.
Doug Baker
I hoped you would mention this.
Kevin McCollum
In "She Loves Me," starring with Pam Dawber and Joel Higgins and so many wonderful, wonderful people. And when I was an actor here to be on your stage was a dream come true. And to actually then sort of evolve into a producer, where I found shows to bring to your stage is not lost on me. And sort of this sort of journey in the arts of how you try to contribute while you're here. So the Ahmanson has a very, very special place in my heart. And I'm grateful that that I'm able to work with you and Michael and the entire organization here.
Doug Baker
Thank you very much. I kept that window card of the production that you did.
Kevin McCollum
It's valuable.
Doug Baker
Outside my office for many years.
Kevin McCollum
It's valuable too to no one. So you may have it.
Doug Baker
Thank you. Thank you. So let's jump into The Play That Goes Wrong. This phenomenal comedy. How refreshing to be talking about a comedy.
Kevin McCollum
It is.
Doug Baker
We love our dramas and I love our musicals.
Kevin McCollum
I love tap dancing. I love tap. I love musicals. I was born on musicals. I grew up in Hawaii where my intro to Broadway was records. So it's no surprise I produced "The Drowsy Chaperone" about a man who sits in his room. Although he was middle aged, I was 10 to 14 so I had a reason. And I am thrilled that we are bringing a show that is so different and yet it's rooted in a tradition of theatre we don't see anymore.
Doug Baker
I've heard you mentioned the tradition and I think that's very interesting. How do you see that?
Kevin McCollum
Well, I see it in that theatre and a live entertainment, before television, the special effect often was laughter. It was a very difficult time. Obviously we're talking the turn of the century, we're talking the twenties going through the wars. The idea of showing up at theatres, people that was how they got the entertainment. Yes. Film was happening. Television hadn't happened, but the live arts were sort of what built our country. And actually promoted immigration in that, if you look at our art form, it is a culmination of British music hall, Irish storytelling, Viennese Operetta. In the '20s, we started to head get the Cuban and African sort of musical elements within our vocabulary. And then finally, the secret sauce that turned Broadway into Broadway was the Yiddish theatre. And why? Because rather than looking out and singing about what we are or doing presentational, they turned to each other to say, "Who are we and how do we get through our day?"
And that brought us "Showboat," which was really the first musical about looking at ourselves through music socially, as well as in the sort of great tradition of great singing. And so with that element, at the same time, with Charlie Chaplin and things like that, physical comedy because you didn't have sound, so you had to create conflict through man and environment, or man against man, visually without words or very few words. So what we've done now, with "The Play That Goes Wrong," is in the tradition of great Chaplinesque meets Monty Python meets Benny Hill meets "Show of Shows," Sid Caesar, '50s television. This vocabulary is a lost art form in the last 40 years on stage. And "The Play That Goes Wrong" brings that back. That's the secret weapon we have that people don't realize until they're in the theatre.
Why am I laughing? Because it's in our DNA. It is in our DNA because when we laugh and our brain secretes dopamine, can you say secretes on this show? It's theatrical, right? You have this wonderful euphoria of, "Oh, I've met my tribe. I came into this darkened place called the Ahmanson. It's a theatre and it's theatre and I'm in an L.A. Town, which is, I'm in L.A., Which is a Hollywood film intelligent town and I am having belly laughs with strangers. I'm not in my car. I'm not spending my time how to get across Fountain to get to my next place. I am not waiting on the 101. I'm with strangers in L.A., Downtown." And look at what you've done here since I was here as an actor.
Doug Baker
Many who have made a big effort to get the theatre.
Kevin McCollum
Yes, but you have a great destination here. When I first performed here, it was just you guys and a courthouse. So you were either an actor or you were going to jail. Those were the two things you could do here. Now you got Disney Hall, you got the Contemporary Museum of Art. And theatre is only getting stronger and now you how your programming, not only here, but everywhere around the city. It is a golden time for theatre. And so to bring back something so analog, which is, it is what it says it is, it's a play that goes wrong. It's like how ridiculous, how simple, and yet how special. And that's what I'm excited about for five weeks that Los Angeles audiences get to experience.
Doug Baker
I've also heard you talk about another secret weapon, if you will, in this production. And it's not a human being. It's your 11th character. It's the physical production. The set. Is that true?
Kevin McCollum
Well, the set didn't, yeah. Well the set actually did win the Tony. We were up for one Tony and it was for set and the set won. And let me tell you, getting that set to agree to get into that truck every week. I can't tell you the rider that set comes with. It needs, I mean we have to talk to the set while we're putting it up. We have to use special hinges. We cannot use screws anymore. They want a smooth nail. It hurts less, I'm told. So there's a lot we've had to do for this set.
Doug Baker
Climate controlled trucks, I hope.
Kevin McCollum
Let me just say, our set has a drinking problem. All right, I just want to say that right now. Thank God the guys who drive the trucks don't. But in the back, that set is having a few. And that's why it's a little unstable throughout the show. And that's why the actors have a challenge and that's why "The Play That Goes Wrong" does.
Doug Baker
You could in fact consider it the antagonist of the show.
Kevin McCollum
You actually can actually, and that's a, it is because the one thing, the cliché of being actor in the theatre is all you have to do is say your lines and don't bump into the theatre. I mean don't bump into the set or the furniture. But when the furniture is actually actively trying to get you to bump into it, it becomes a different dance. But all kidding aside, this play is a physical sort of journey. It is. Every actor up there's not only a comedian, they're all very much athletes. We have a half hour call before the show to get everyone prepared. It's like doing a big, big musical. But it's a play. And I think it's why we're in our, this play not only was two years on Broadway, but we're gonna run two and a half years on the road. And for a play that's unheard of-
Doug Baker
Extraordinary. Extraordinary.
Kevin McCollum
... to have the second full season. And part of that was because very early on the Ahmanson said, "We think our audiences will love this. And we haven't seen anything like this in a long time." And without theatres like the Ahmanson, and it's so healing for the company because our company has been doing a week or two weeks or three weeks, but then to come to Los Angeles and be able to do five weeks with such a sophisticated audience. And also one that that that again, we're thirsty for laughter, but there's a lot of great drama. There's a lot of great shows, and musicals or there are musical comedies, but there's not been sort of a laugh out-
Doug Baker
So true. So true.
Kevin McCollum
... fall down, fall out of your seat comedy in L.A. For a long time.
Doug Baker
And we did not hesitate to ask you to figure out a way that we could present it and we were very pleased to be doing it during the summer. We think it's a great time to come in and have a great time.
Kevin McCollum
The other thing about the show, I will say not only is it a great time, one of the reasons why we're a success is people are buying tickets in fours and eights, not twos and fours. Why? It's a multi generational show.
Doug Baker
Yes.
Kevin McCollum
You have no worry about language.
Doug Baker
Very good point.
Kevin McCollum
You have no worry about appropriate. Five year olds have said, "It's the greatest show I've ever seen and I've seen a lot of shows." It's one of those things where I remember when I first saw, and I was a little older, when I first saw "Noises Off." It's the only show I bought a ticket the next night for. And there wasn't anything available. So I got a ticket to sitting in the audience the first night I went and said, "Is there anything for tomorrow?" And there was standing room and I bought standing room the next night. And so for me, it's that great tradition of being surprised and I think it's not since "Noises Off," the original production on Broadway in the '80s, have I seen anything as funny as this?
Doug Baker
When did you first see the show? How did you discover it?
Kevin McCollum
I heard about the show before I saw it. I was producing another show that you did of mine, "Something Rotten!," which I don't think we talked about in that little preamble that was, so I'm glad we're still talking,-
Doug Baker
Yes.
Kevin McCollum
But it was a big hit here. I think you did it in the holidays.
Doug Baker
We did. It was a big hit.
Kevin McCollum
And it was so much fun.
Doug Baker
Because it's a darn good show.
Kevin McCollum
Thank you.
Doug Baker
Great timing.
Kevin McCollum
You know what's great about this show that I'll tell you, answer your question, but I did "Drowsy Chaperone," one of the worst titles in the musical theatre of telling people what it's about. And then I did, if that wasn't bad enough, I then did a musical called "Something Rotten!," which if you're not from this country or you don't know Shakespeare and let's say you're from Tokyo and someone is asked, you ask someone, "What should I see on Broadway?" And you're not familiar with the language and they say, "'Something Rotten!'" It's like, "No, I want to see something good." And so, you know, it was a challenging title. What I love about this play is it says what it is. It is "The Play That Goes Wrong" and you'd think, "Oh, you don't want to give that away, don't you?" But the surprise is how wrong it goes. And yet through the wrongness, it finds its rightness. And playing with that has just been great.
So I'm producing "Something Rotten!" in New York and you know this from the League in America, the what we call The League, which are all the theaters and the producers talk about how to get the shows out there. They have the similar thing in London called SOLT, Society of London Theatres.
Doug Baker
Indeed.
Kevin McCollum
And usually every, and I'm a member, I'm one of a few Americans that's a member.
Doug Baker
Well you've produced a number of shows over there.
Kevin McCollum
And so I get the notice from SOLT and I open it up and it's from a show. And it's always like, "Please come see our show. Think of us for the awards season. We'd love to offer you tickets. Let us know when you'll be there." And I get this letter and it says, "Dear theatre professional, We are The Mischief Theatre Company and you might've heard of our play, "The Play That Goes Wrong." We are asking you, please do not come to our show. We are somewhat embarrassed about it. And we had to open it because we had nowhere else to go. And we needed the warmth of the theatre because we don't have housing."
Doug Baker
So clever. So clever.
Kevin McCollum
It was one of the funniest letters about do not do not vote for this show. It's please don't. And I've thought, "Oh this is, these guys are funny." I want, because I'm doing "Something Rotten!" and I'm using a similar campaign in America. I told my assistant, I said, "I need to go see this show and I need to see it probably sooner than later because I think they're onto something."
Two days later I get a call from an agency and they say, "Do you know JJ Abrams?" I'm like, "Yeah, I know JJ. I know of JJ Abrams." And he said, "He just saw this play, "The Play That Goes Wrong," and he really wants to think about being helpful in bringing it to United States." And I said, "Well I'm about to go see it." And he goes, "Well we thought of you because we know JJ, we know you. We think you guys might want to do it because JJ also is producing some films and television"-
Doug Baker
A few. Yes.
Kevin McCollum
... "But he loves this." And I said, "Okay, I'm not quite sure how that would work, but I'm seeing it next week." I saw it next week, then week later. JJ and I spoke and we realized we're very simpatico in what we like in the theatre. One of his favorite shows was "Noises Off" too. When he went and saw it in New York originally. And we've just realized we're both raising children and we have similar things going on in our lives. And we both have a similar appreciation for the theatre. And I didn't realize he grew up on the theatre and he didn't realize, I also spent time in film and then went back to the theatre. So as a result, we, Kenny and Mark, who were the original London producers, agreed that we could do it as partners here with them. And so the four of us decided to make an arrangement. And then, so JJ and I are the North American producers.
And it's just been a joy because the thing about JJ, he's innately curious. And I think successful careers, no matter what you do stay curious. And in film and television you do everything you can to capture it and then it's done. And then that's what it is. And JJ comes from a place of wanting to always invent. And so the fact that the play is never done, and even replacing the British company with the United States company, with an American company, always tweaking, always asking questions. And he's wonderful with actors. He's wonderful with authors and directors. And you know, Doug, in the theatre, it's not a work for hire business.
Doug Baker
Right.
Kevin McCollum
Everybody has to show up to make it work. And if somebody really is a problem in film and television, just get it in the can and move on. In the theatre, everybody has to stay buoyant. JJ leads that. He is not what you read about in cliché Hollywood personalities. He's a theater guy who happens to be one of the most successful film and television people we have. So he's truly a man. He's a renaissance guy and it's a privilege to be in the room with him.
Doug Baker
Well, I will add that your description of JJ is pretty much how I would describe you to someone. All of those. I mean that quite sincerely you-
Kevin McCollum
I'm blushing over the podcast right now.
Doug Baker
You stay so engaged. You are indeed, truly wonderful with your artists. You treat them well. I've seen it. You function as much a producer, as a dramaturge, on your shows. You help your authors as they're working through the challenges of "Act two is not working quite right. How are we going to get out of this?"
Kevin McCollum
Well, if it's a musical, I promise you Act two isn't working. That's the bane of all musicals.
Doug Baker
So, of course, the only thing you can do at that point is fire the wardrobe supervisor.
Kevin McCollum
Absolutely. Just to show who's boss.
Doug Baker
Exactly. Exactly.
Kevin McCollum
Well, that's very sweet of you. And I am grateful that I have been allowed to collaborate people who actually allow me to contribute in some way. Because like JJ and his visceral reaction to seeing the show, which he just sort of was filming and walked in to something he'd never heard of and was surprised and had sort of a guttural emotional reaction to laughing like he hadn't laughed in a long, long time.
Doug Baker
This is a belly laugh show.
Kevin McCollum
It's a belly laugh show.
Doug Baker
Absolutely.
Kevin McCollum
And so to have, I think part of my skill as a producer is I'm very by the gut. It's never about, "Oh my God, is this a hit?" It's that, "Do I want to be in the room with this story?" And if I want to be in the room with the story, then it's a better chance to be a hit because if it's not a hit, I don't resent the time I spent. Because I wanted to be in the room with that story. And I think that alignment of whatever, however we fill our days, if you know why you're filling your days this way, rather than through obligation or because you're trying to get the approval of someone, but if you can align from your gut and I'm an only child, my parents died when I was young and I think a lot of us in the theatre come from a survival mentality of, because again, we create something that evaporates every performance.
There is something just sort of healing and wonderful about being in the room with others like that. And I think JJ is like that. He is a guy who watched for a long time and wasn't sure what he wanted to do but if you talk to him and through the interviews you know, he is someone who just wanted to contribute. And I think I definitely know what that feels like because I'm very driven by wanting to contribute.
Doug Baker
It seems like a very good match. The two of you.
Kevin McCollum
We are having fun in this relationship. Yes. He has better hair than me by far. But I'm starting to wear, like my reading glasses are now heavier, thicker, darker glasses.
Doug Baker
Well there is that look.
Kevin McCollum
Here's the, I'm putting it on for folks.
Doug Baker
There we go.
Kevin McCollum
That's my JJ. I just put on some glasses. There you go. It's like Buddy Holly. It's like a Buddy Holly look that he's now taken on as his own.
Doug Baker
Got you. Tell us a bit about The Mischief Theatre Company please. And these amazing young people who are that theatre company.
Kevin McCollum
And again, I think because I was an actor. And JJ obviously with his first shows, worked with his friends and to get up, these were three guys who all went to school together. Henry, the Henrys and Jonathan.
Doug Baker
Right. Two Henrys, right?
Kevin McCollum
Two Henrys and one Jonathan. And they all went to school together and we met them when they were 27 to 28 years old. They just turned 30 actually. And they had gone to school together and they put this up for like 20 minutes. They always loved magic and they always loved comedy and they put up this show in a bar for 20 minutes and worked for beer.
And through that people started to come see. And Kenny Wax came in touch with them and they expanded the show a little bit more. And anytime, whether it was "Rent" with Jonathan Larson for myself; Bobby and Jeff Lopez on, Bobby Lopez and Jeff Marx on "Avenue Q;" or Lin-Manuel Miranda on "In The Heights," I love working with people who need an advocate to get themselves to Broadway. Or even Bob Martin on "Drowsy Chaperone," which-
Doug Baker
Absolutely.
Kevin McCollum
I am. I again, I think it's probably the only child in me. It's like I want to be helpful for people to find their voice. And The Mischief Theatre, I wanted to be helpful to get them to Broadway. A lot of people thought we shouldn't come to Broadway, maybe try Off Broadway.
Doug Baker
I recall. I recall it was very risky.
Kevin McCollum
And I'm like, "No." And I said, "Here's the thing, I think they're the next Monty Python, but no one knows that yet." And so while we were doing that, they had already written "Peter Pan Goes Wrong." And they were working on a play called "The Play About the Bank Robbery," which is a play set in Minnesota about a bank robbery in the '40s. I mean, it's just so odd that these three British friends from drama school write a play about that.
Doug Baker
I saw it in London and loved it.
Kevin McCollum
And that's still running. And so the fact that by the time we brought them to Broadway, they had three shows already on the West End and they were, I mean, who wouldn't want to be in business with these guys? And also their loyalty to their friends, because we brought over the original company for "The Play That Goes Wrong," which were the three guys and seven more people who helped them create the show from the very beginning. So that kind of loyalty and that kind of sense of community and bonding, that's what makes the show so special too.
And our rehearsal process, we go through a very different rehearsal process of trust, and not just the lines, but how you can rely on each other that you cannot manufacture. So by saying we would do it, I knew Broadway was going to work because these 10 people who created this show had a secret sauce that, in America you rehearse for three weeks and put the show up. The comedy comes from their familiarity also with each other and their trust. So even when things go wrong, because actually things do go wrong, not meaning to go wrong in "The Play That Goes Wrong" at times. They know how to take it and build on it. And through that, our show also, if things happen to go wrong, we have 20 contingencies at every moment in the show.
If the couch does this or, I won't give away everything that happens. But certain things since the set has been drinking, you never know what the set's going to do. We have this wonderful, wonderful sense of we're just ready to play ball. I think that's the thing about this show and anyone who surrounds themselves around The Mischief Theatre Company. Everybody has to show up to be willing to take risks with each other because you know you can trust the person you're taking the risk with. And that's what's great and we have more to do with them. You're going to hear a lot about The Mischief Theatre Company and we're starting to actually, it's "The Play That Goes Wrong," but you'll see in a lot of the advertising now it's like Mischief Theatre Company.
Because, and I've been a great advocate for this as well, they are like Monty Python. They are like the original SNL. They are this truly, truly triumvirate of talent that's going to create many, many, many more wonderful shows in the theatre. And also I think film and television as well. They're doing some television now in London that might be a bought here in this country. So this is just the beginning of the Mischief. We're going to get into a lot of Mischief. We're going to become mischievous. And JJ and I are talking about doing more with them.
Doug Baker
It's so great. When you were really in your earlier days as a producer, which we touched on a bit earlier in this conversation, who were your mentors? Who did you learned this biz from?
Kevin McCollum
My First mentor actually was somebody who I was an actor for. My first, when I first moved to L.A., One of the first jobs I got was in Santa Barbara of a musical called "She Loves Me." And the director was Paul Blake and Paul, I then did that and I did it at the Ahmanson. I did that production at the Ahmanson. And then I went to film school. Because I wanted-
Doug Baker
Here at USC.
Kevin McCollum
At USC for my master's because I had been, I was now 26, still playing 17 year olds. And I was, God forbid you become really good at something that you only can do until you're 30. So I knew I can play the ingénue for another couple of years but, and I did Mordred in "Camelot" productions and Joseph and... But my mind was really, I had taken care of myself and moved when I was 14 to live with my aunt and uncle, and I had had a very sort of untraditional childhood where my survival skills were about, "Okay, I gotta figure this out."
And as a result, waiting for permission to perform, started to, I didn't like waiting for permission. So I got my masters in film producing, and at the same time, right when I graduated I started to work for Disney Pictures and did very, very well there and I was on my way up and Paul said, "Do you want to do Arpad again?" Now I'm 29, or something like that, and I'm like, "No, I'm kind of done with that. But I've been to film school. And I know a little bit about film producing and I think I could help you in theater producing because I was as an actor. I kind of know how it works in theater too." So he hired me to be sort of his associate producer for a tour of "She Loves Me" that played the Florida circuit. And my role was replaced by Jeb Brown and a lot of great, Pam Dawber was in it, and Joel Higgins again and, and a lot of-
Doug Baker
Royal Poinciana Playhouse.
Kevin McCollum
Yeah, exactly.
Doug Baker
Parker Playhouse.
Kevin McCollum
Yeah. The Parker, we did the Florida circuit.
Doug Baker
Sure.
Kevin McCollum
So we ended, actually it was a 11 week tour, but we ended at the Orange County Performing Arts Center. Right? A couple years after it opened. And I won't get into all the logistics and the economies of it, but I'm working on that show, in our final, we had 12 weeks. And we kind of broke even down in Florida.
And Charlotte Wilcox was the general manager. And so I would, I'd never met Charlotte. But I would pick up the phone because I was an actor so I kind of knew how contracts worked. But I would say, "Hey, we're doing this route." And she would say, "Well the rule is this." But then I'd call Los Angeles Equity, who they knew me as an actor. And I said, "Can we do this instead because we're having a trouble with that truck and we need an extra hour?" And Equity worked very well with me cause they knew me and they knew we weren't making a lot of money, we were just trying to get people working in L.A.
And we then came to the, it's a great story, to the Orange County Performing Arts Center and we did like an $800,000 gross in 1988. Which was like, that's like 3 million in today's dollars.
Doug Baker
Yeah. That's what "Hamilton" does per week on Broadway.
Kevin McCollum
For "She Loves Me." For "She Loves Me." And I'm the producer rep on the final night of settlement. And settlement, for those of you who don't know, is when you play a tour at the end of the engagement, whether it's five weeks, at the end of five weeks or at the end of one week, you settle up. How much did you pay on advertising? How much was your crew? How would you and you chop up whatever's left.
And all I can say is, is I walked out with a check from that week, not really understanding what it all meant. Because I was an actor, so I faked that I was a producer, and I walked out and I handed Paul the check and I said, "This is our overage." And I said, "We have to figure out how to do more of this."
Doug Baker
That was the moment.
Kevin McCollum
I then worked for Paul for a number, a couple of years. And right when he got the Ahmanson contract, I mean the MUNY contract in St Louis. And where we would put a star in. And the first thing we did was "Bye Bye Birdie" with Tommy Tune. And after that we created a company called The Booking Office, hired a young agent named Jeffrey Seller who was recently looking for a gig. And then I bought Paul out a couple of years later because I moved to New York and he stayed in L.A. And then Jeffrey and I became partners. We produced "Rent" and then we had a great 20 years of producing a lot of shows.
And now Jeffrey and I produce independently and we're both doing well, but Paul Blake gets a lot of credit. The other person who gets a lot of credit is Paul Blake's attorney who's been my attorney ever since. Lauren Plotkin, who's been my only attorney. And then finally, but equally important, the person who gave me shows as an independent producer when I was a booking agent, because I then, really my living was booking until "Rent," came along. So I dealt with you when I was trying to sell you shows other people's shows, whether it was Marie Osmond and "The Sound of Music," or "Evita" or shows I was representing, Manny Azenberg.
And the thing about Manny Azenberg, I remember when I was in college in music theatre school. Undergrad, because I went to undergrad Cincinnati Conservatory of Music as a music theatre major. So I was a very reasonable Hugh Jackman. And as a result I remember picking up the Wall Street Journal when he was doing a play. I don't quite remember the play. It wasn't "Lost in Yonkers." It was another play. The Wall Street Journal did a whole front page sort of article on Manny Azenberg. And I thought to myself that's somebody I need to meet. And at that time I wasn't quite sure I was a producer yet because I think I was doing Joseph in Chicago at the time. So I didn't even know I was going to evolve into a producer. But it's, you know those wonderful, it's almost like, you know the, it's all random but... It's probably not an accident that I'm here.
Doug Baker
That would be nice.
Kevin McCollum
But it is random. But I just tried to stay conscious and listen to how I could contribute. So my mentors are those three men and Charlotte Wilcox as who, really I think it's why as a producer, before I was a booking agent, I had to teach myself how to be a general manager. And then a company manager. And then run a building with Paul at the Ahmanson, which is, I keep saying the Ahmanson, at the MUNY, I'm at the Ahmanson, at the MUNY, which is-
Doug Baker
When you're with us you do run the Ahmanson though.
Kevin McCollum
The MUNY is in St Louis. For those of you who don't know, it's a 12,000 outdoor seat theatre and it always rains at nine o'clock but the show starts at 8:40. So I call it theatre against all odds. And maybe that's what's attractive about "The Play That Goes Wrong." Because I will tell you at the MUNY, it was always the musical that went wrong, every night, but yet it's joyous because everybody gathers and it's too hot and it's too humid and it's too difficult. And yet that orchestra kicks up outdoors and you put 40 people on stage in a park and you hear a "Brigadoon" or "42nd Street" tap dancing, and it's primarily just revivals. But the revivals are done with so much love and heart, and I think it's where I kind of developed my personality. If I can do shows at the MUNY, I can kind of do shows anywhere.
Doug Baker
Kevin, it's been such a pleasure to speak with you.
Kevin McCollum
It's a joy to be back here.
Doug Baker
Thank you for doing this.
Kevin McCollum
Thank you.
Doug Baker
We look forward to seeing you at the theatre in a few weeks.
Kevin McCollum
I can't wait to watch Los Angeles laugh like they'd never laughed before.
Doug Baker
You've been listening to "30 to Curtain," a Center Theatre Group podcast. You can find out more about "The Play That Goes Wrong," our organization, and upcoming productions on our website at CenterTheatreGroup.org.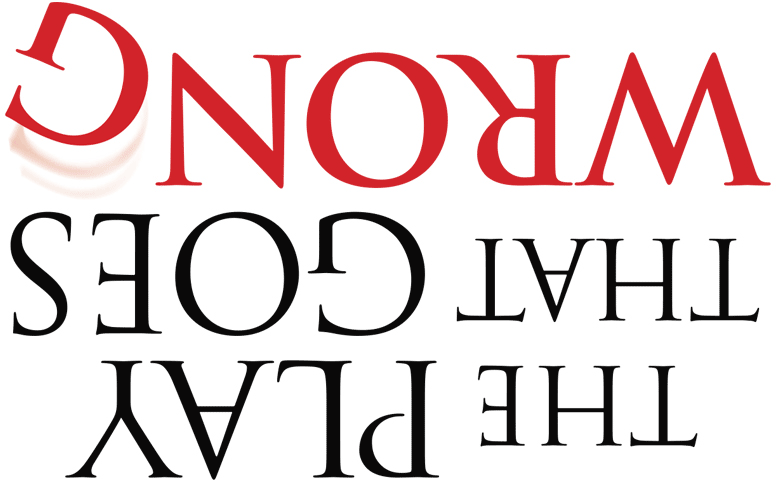 Onstage at the Ahmanson Theatre July 9 – August 11, 2019
Buy Tickets
"30 to Curtain" is Center Theatre Group's podcast featuring interviews with some of the theatre artists creating work across our three stages.
Listen