John Leguizamo Is Going to Rock You
Questions & Answers with the Writer & Star of 'Latin History for Morons'
For nearly 30 years, John Leguizamo has been creating and starring in landmark solo theatre productions that draw on his life to bring audiences around America laughter, understanding, and even catharsis. At the same time, of course, he's graced our screens in everything from his recent Emmy®-nominated turn in When They See Us and roles in To Wong Foo, Thanks for Everything! Julie Newmar and Moulin Rouge! to voicing a sloth named Sid in the Ice Age series.
Somehow, in between his time onstage and on-screen—not to mention raising a family—he found the time to become an expert in Latin history. In the midst of a national tour for Latin History for Morons that had him schooling people from Miami to Michigan, we asked him to give us some background on the show's creation and evolution, and what Angelenos can expect from the next 110 minutes when they sit down at the Ahmanson.
Q. What is the origin story of Latin History for Morons?

A. My son was in middle school, and he was being bullied— racially profiled—and instead of having him beat the bullies up, I wanted him to fight them with words and information and facts. So I started doing a lot of research, and the thing that happened was I was the one being un-moronized and de-stupified and un-dummificated. And I was the one who felt more empowered. It was incredible because it was just a domino effect. The amount of information I started to find started to double and triple and quadruple, to grow and grow. I couldn't believe the incredible amount of Latin contributions to America and the world, it was just so huge. I always felt so othered and second-class, and all of a sudden I was like, wait a minute, how is this possible with all these contributions from Latin people?

Was there a particular moment when you knew this was going to be a play?

I was doing a workshop with the material at Berkeley Rep [The Ground Floor Summer Residency Lab at Berkeley Repertory Theatre], and all these great playwrights there, including Anna Deavere Smith, were like, "There's something really great there, there's something powerful." And they convinced me, in a great way, to go forward with what I was doing.

Like Center Theatre Group, Berkeley Rep is a nonprofit theatre company. What did that mean for your development process?

Nonprofit theatre is everything, man. That's like the farm teams for major leagues. That's where I go. It's my sanctuary. Nonprofits nurture playwrights, and they give us the time, the space, and the protections and the funding to continue our research and exploration in our work.

It's been five years since you started developing Latin History for Morons. How has the play evolved since then, and how has it been affected by the changing political climate?

I feel like right now it's at its most powerful, in a strange way. This administration, the worse it gets, the more impactful my play becomes, which is kind of a sad irony—but nevertheless it's a fact. It makes me feel like I'm doing a public service by giving people hope that we can overcome all this, and that unity is better than division.
At the start, I really wanted to do just a lot of history, and people were not having it. I had our contributions in World War I, our heroes in World War II, the Korean War, the War of 1812—and people do not care about the War of 1812—so I had to reduce it. And then I found a balance where the audience was happy and I was happy. So enough history was there for me to be happy, and enough personal stories analogous to the history that made it palatable for the audience.

How do you strike that balance between education and entertainment?

I think it's on a trial and error basis. I'm not looking for people walking out or yawning. In the comedy clubs when I started out, I was going more for the jokes and more for the personal. Theatres demand a lot more gravitas. And so it was great because I started to dig deeper into the family stuff and go darker and realer. And I put in more history because people wanted more information. But in the end I need to please me, because that's who I write for, really, and if I can write for myself and please myself, then I know it'll please somebody else.

How did you collaborate with your director, Tony Taccone?

He's one of the great storytellers, artistic directors, of our time. He's the one who directed the first inception of Angels in America [at the Mark Taper Forum at Center Theatre Group]. He ran Berkeley Rep for 20 years. I fell in love with this storyteller guy, because we all love the same thing: a great story. So I asked him to be the director for Latin History for Morons, and we've had such a blast. We're like Laurel and Hardy and Abbott and Costello when we get into a room.

How have Latinx audiences responded to the show on this tour?

I've toured with this show all across the country, and for the most part Latinx people respond to it the same way, which is really incredible because you'd think that all the different Latin ethnic groups would respond differently. But no. Everybody's so vocal. They get so rowdy, they get so outraged. People weep. People get really angry. And then they walk out incredibly proud of being Latinx and knowing that their contributions to America and the world have changed the world.

How did your son react the first time he saw the show?

I was terrified. I was stammering and stuttering; I forgot lines. I was too emotional; I couldn't function. But afterward my son said he loved it. My wife said he laughed through the whole thing. He of course had notes—he criticized my portrayal of him. I'm a 50-year-old man doing a 12-year-old. It's not really my wheelhouse.

Anything else you want to make sure audiences know going in?

It's a raunchy, historical, informative, elevating night. So be ready to be rocked to the core. It's not for the light-hearted.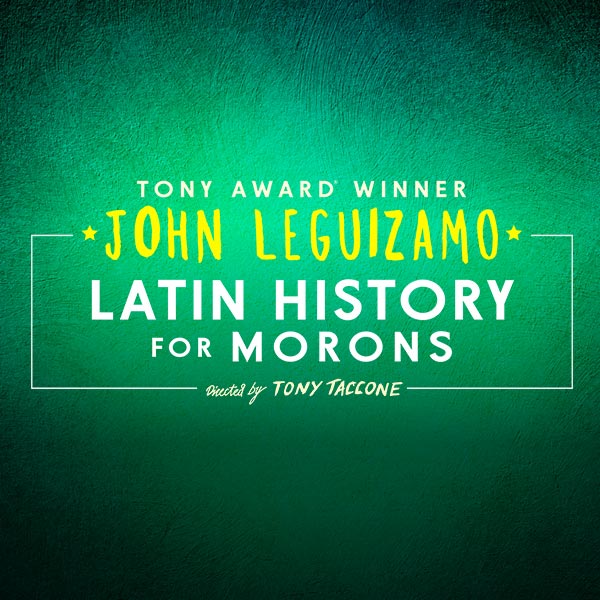 Onstage at the Ahmanson Theatre September 5 – October 20, 2019
Buy Tickets