Getting to know Kristina Wong
Kristina Wong, Sweatshop Overlord, opening the Kirk Douglas Theatre season this February, recounts Wong's rise to "mutual-aid doomsday cult leader" and "sweatshop overlord" after creating a community of Aunties to sew masks for vulnerable communities at the start of the pandemic. This group then grew nationwide, and her performance about the experience made her a finalist for the Pulitzer Prize in Drama.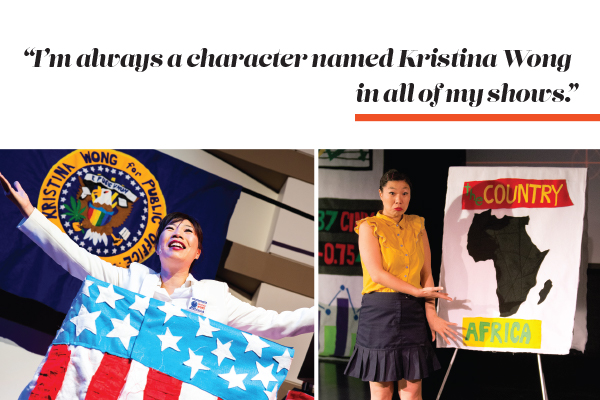 Wong initially did not intend to make a life in theatre. While growing up in San Francisco, her parents would clip articles about the highest-paying jobs and leave them on her bedspread. Jobs in "theatre" weren't even in these articles. In high school, she did theatre, but always worked with other people's words. Her perception on the form changed completely after she took a performance art class at UCLA. The visiting artists spoke of their autobiographical and devised work, which resonated with Wong.
"Theatre gave me both a social circle and a chance to be looked at as something different than I was," Wong said. "It gave me somewhat of a sense of control and a sense of feeling like I could present myself in front of other people on my terms."
Her work almost always involves herself in some way, laying in the intersection of political activism and performance. "I'm always a character named Kristina Wong in all of my shows. The aesthetic is, 'Kristina does something crazy,' and then the show is the book report of that thing," she said.
Wong finds a great similarity between her work as a performance artist and politicians running for elected office. She explored this connection in Kristina Wong for Public Office, which ran as a part of Center Theatre Group's Digital Stage initiative in 2020. Politicians too, she said, play characters with the same names. "It felt like politicians and artists switched jobs. We used to listen to politicians and laugh at comedians, and now we laugh at politicians and listen to comedians. We didn't need more spectacle-makers, because the politicians were the clowns. And it felt like the most subversive thing I could do was not write a crazy play about our crazy world, but instead run for office and try to get my job back as a clown."
Wong not only ran for public office, but was elected. She's finishing out her tenure as a neighborhood council member in Koreatown until April 2023. She does not think she will run for reelection, as she hopes someone who has more time to commit to the position can do more meaningful work. Kristina Wong, Sweatshop Overlord began as a "naïve promise" that resulted in a group of about 800 people across 33 states. Wong posted that she was willing to help make masks for those who needed them at the start of the pandemic, when demand and lockdown orders were delaying supplies and materials. In just four days, she had a list of 200 masks to make from people messaging her about needing them for their elderly family members and their jobs.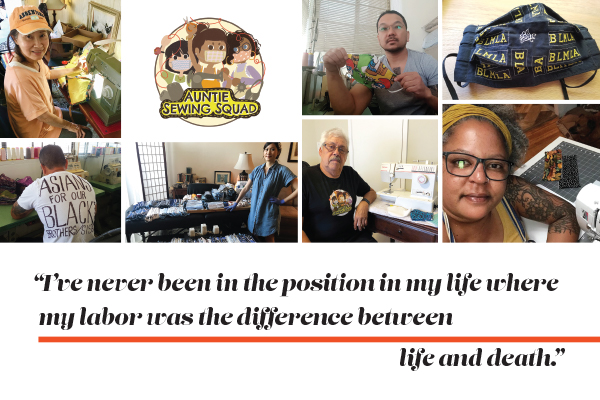 "I've never been in the position in my life where my labor was the difference between life and death," Wong said. "I was suddenly so proud that I wasn't an unessential artist but an artist with an essential skill of being able to sew PPE that did not exist."
But this was too much for Wong to handle alone. She started her own Facebook group, "Auntie Sewing Squad" (A.S.S.), with a few friends, before the collective grew exponentially and requests started to get bigger. Soon, she was receiving requests for farmworkers and prisoners.
There were many of these sewing groups that popped up at the start of the pandemic, but Wong said the "Auntie Sewing Squad" was special because, "we made a more concerted effort to give the Aunties some agency where their labor was going." Aunties could choose how many masks to make and where to send their masks. And instead of tackling "the whole big world—all the anti-maskers and the outbreaks— we had a tangible task that could support people who needed it," Wong said.
Individual action meant a lot throughout the pandemic, especially as COVID-19 response plans were mainly left up to state jurisdiction, not nationwide protocols. "The systems that are in place, capitalism and democracy, didn't save us. We had to step up and do it. But the good news is that we are capable of doing things to support other people, and that is probably the best instinct to act on."
The A.S.S. also made Wong feel like she had a community during a tumultuous and isolating time for many people. "I did not feel lonely at all during the pandemic," Wong said. Between the work of organizing and sewing and the Zoom "stitch and bitch" sessions, the group of Aunties went from "people sending us support to supporting each other."
After meeting the Aunties in real life as travel and businesses began to reopen, she realized just how large and impactful the A.S.S. community had become. "These people are willing to leave their house for no money just to protect people they've never met before. That level of generosity was something I never experienced in my life or in Los Angeles. And I remember having this thought that I wish I had more relationships like this, outside of the context of, 'We're all going to die because of this pandemic,'" she said.
While the Aunties are no longer sewing masks, they are still a community and continue to inspire others to do mutual aid work in their own communities. They even have a book, The Auntie Sewing Squad Guide to Mask Making, Radical Care, and Racial Justice, that documents their work and serves as inspiration to others.
Kristina Wong, Sweatshop Overlord is a co-production with East West Players Theatre, the first and longest-running AAPI theatre company in the nation. Wong has previously worked with the organization, telling another community-driven story about individuals impacted by the criminal justice system. Wong directed From Number to Name in partnership with API RISE, which was a play devised from the real lives and experiences of incarcerated individuals in the Asian American community.
Wong is also currently working on Kristina Wong Food Bank Influencer, which will premiere in 2026 as a part of a three-year residency at ASU Gammage. She was inspired by World Harvest Food Bank in Venice, where patrons donate $55 to take home a heaping cart of healthy groceries.
"During the pandemic when there [were] no museums, no theatre, [there] was the excitement of going to the food bank and [thinking], 'What will we make?'" Wong said. She then started seeing the grocery store as an immersive theatre experience, especially when thinking about how there are so many influencers who create content showing off what they buy elsewhere. Now, the project is focused on getting food to different communities and point people to healthier food options even when in a food desert, like a market in the Navajo Nation she is working with.
As much as Wong's career focuses on herself as a character, the communities she works with in Los Angeles and beyond also play a key role in her writing and life. "Kristina Wong, Sweatshop Overlord is about celebrating that community and the possibility that happened," she said. "I really thought that this is when Red and Blue and humanity comes together, and we fight this virus together because we realize how vulnerable and interconnected we are. We lost that opportunity. We're worse off. But at least when I look at this community, I see a possibility of how people can come together in a crisis."