Ahmanson Theatre 2019/20 Season
We're excited to announce the Ahmanson 2019/20 Season, and to invite you to subscribe or renew your subscription for next season. When you subscribe to 7 shows now, it's like you're getting one show FREE!*
The Ahmanson 2019/20 Season showcases the work of the world's finest artists and creators. From a legendary rock star—Sting starring in his heartfelt and empowering new musical, The Last Ship—to two raconteurs direct from Broadway—John Leguizamo in Latin History for Morons and Mike Birbiglia in The New One—we've curated a collection of shows that are both passionate and personal. And, hailed by The New York Times as "the best musical of this century," The Book of Mormon makes its Ahmanson debut. Plus, you won't want to miss the 2018 Tony Award®-winning revival of Once on This Island and the beloved and groundbreaking Matthew Bourne's Swan Lake, which makes a grand return to the Ahmanson 22 years after its American premiere here. These six productions, and an additional title to be announced, will ignite the imagination of Los Angeles audiences. It's always an event at the Ahmanson.
SUBSCRIPTIONS START AT JUST $189. Buy or renew your subscription now to guarantee your seats for The Book of Mormon, The Last Ship starring Sting, and the rest of the event-filled Ahmanson 2019/20 Season. The final deadline to renew an existing subscription is April 19.
Don't forget—signing up for our monthly payment plan now makes renewing your subscription easier than ever. Just call our Subscription Hotline at 213.972.4444 to get started.
Subscribe Now   Renew Your Subscription
Receive a complimentary 12-month subscription to Los Angeles magazine when you subscribe early!
Offer for new subscribers expires April 19.
Los Angeles magazine
is the single most powerful media resource in the region, covering the people food, culture, arts and entertainment, fashion, lifestyle, and news that defines Southern California. Every month,
Los Angeles
delivers award-winning content and events that encourage Angelenos to discover and engage with L.A. in ways that are most meaningful to them. Your complimentary subscription includes 12 issues for the year. Please allow 6–8 weeks for delivery of the first issue.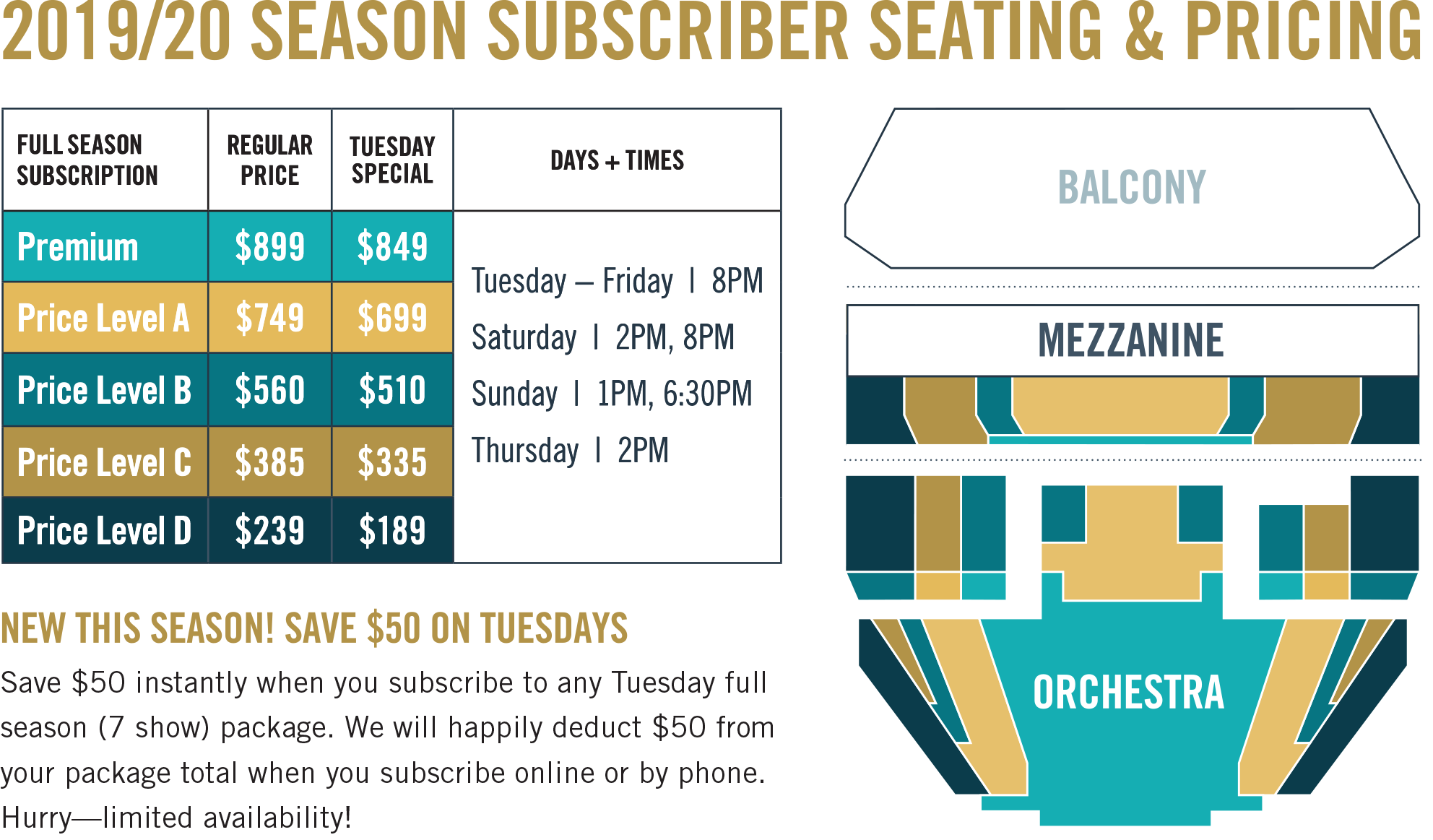 Subscribers enjoy exclusive discounts off single ticket prices and preferred seating at each of our theatres. Check out all of our exclusive subscriber benefits, including locked-in discounted pricing, easy (and FREE) ticket exchanges, and more.
Want to split up payments? We can help. Call our Subscription Hotline (213.972.4444), and we'll split your subscription order into monthly payments. Your total subscription order will be split into four monthly payments and automatically charged on the last Thursday of each month. Note that your subscription must be fully paid off one month prior to your first performance. Not available online. Requires payment by one credit card and includes a one-time $10 payment processing fee.
Subscribe Now   Renew Your Subscription
*When compared to purchasing full-price single tickets with corresponding handling fees. Valid on Premium and Price Level A, B, and D packages, as well as all Tuesday packages.
Guaranteed discounted, locked-in pricing
Additional tickets for friends and family at discounted subscriber prices
No handling fees on additional tickets
Flexible, unlimited, and FREE ticket exchanges
Easy monthly payment plan available (by phone at 213.972.4444)
Priority seating before shows go on sale to the public
Complimentary improvement requests each year
Our money back guarantee (if you aren't 100% satisfied after your first Ahmanson performance, we'll refund the balance of your season)
Visit our benefits page for more details.
Learn More