A Journey of a Century Begins With a Single Student
The August Wilson Monologue Competition Keeps a Playwright's Legacy Alive
On February 27, 2017, a century of the African-American experience came to life on the Mark Taper Forum stage through the words of August Wilson and the voices of Los Angeles high school students. Since 2011, Center Theatre Group has served as the Southern California home for the national August Wilson Monologue Competition. Each year, over 100 students from across the region are introduced to Wilson's work as part of the program, which begins in the fall. Six months later, 12 of those students emerge as regional finalists and present their monologues in front of a packed Taper house.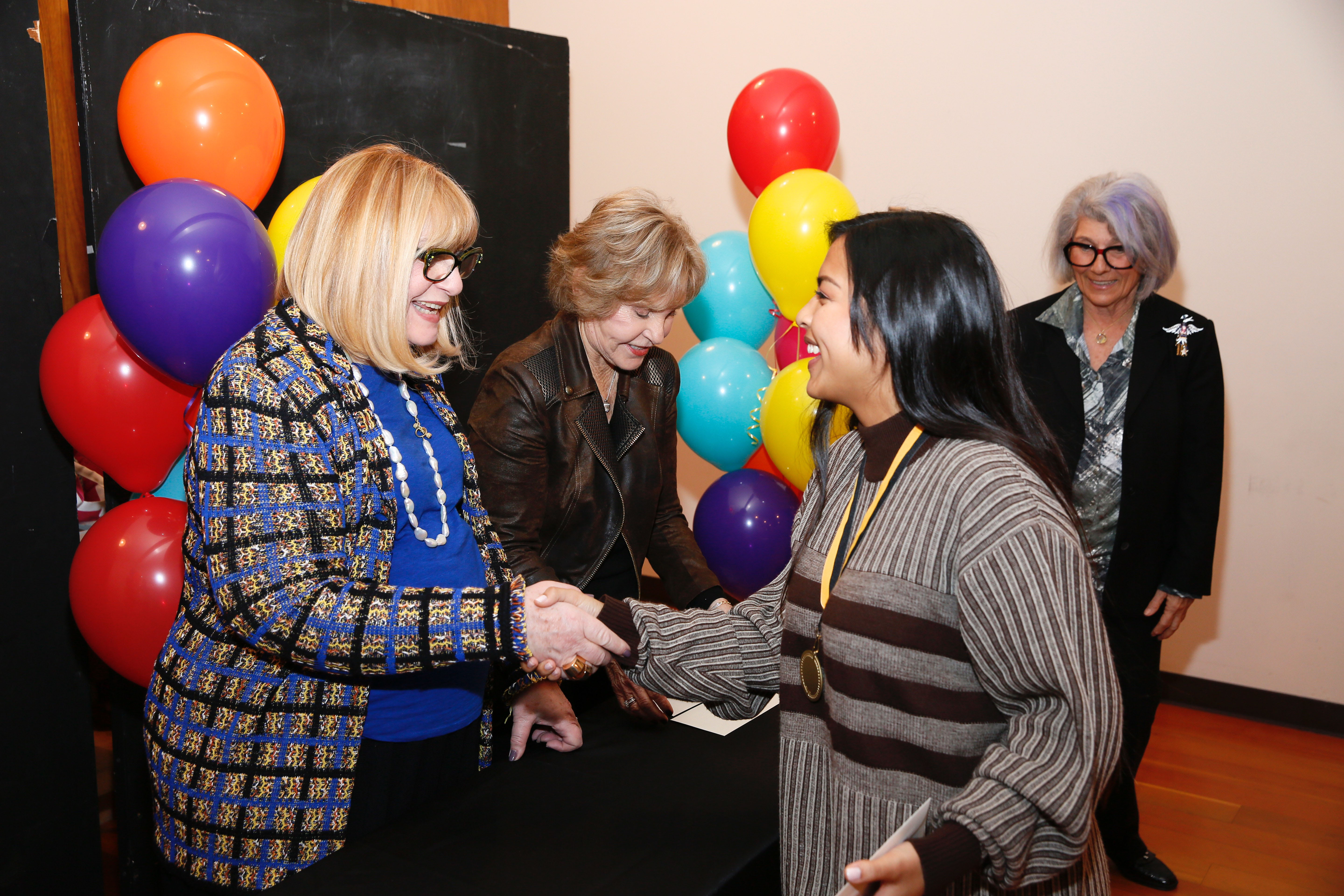 Before taking the stage of the Mark Taper Forum, all 12 regional finalists received medals and gift cards from the Center Theatre Group Affiliates in honor of their achievements. Regional finalist Ehvinny Mora (front) is congratulated by Affiliates Vice Presidents (L–R) Janice Wallace, Ilene Eisenberg, and Sheila Poncher. Photo by Ryan Miller/Capture Imaging
The road to the competition begins with an after-school workshop where students learn about Wilson's American Century Cycle. Teaching artists led this year's group in acting exercises, introduced them to Wilson's plays, and guided them through audition techniques.
"These workshops are an opportunity to bring together students from all over Southern California for a common goal—to immerse themselves in the work of August Wilson," said Center Theatre Group Director of Social Strategy, Innovation and Impact Leslie K. Johnson.
On November 5, 2016, these 10th, 11th, and 12th grade students from 34 high schools and five counties convened at Center Theatre Group's headquarters for preliminary auditions. Fifty-three students advanced to the semi-finals, where they performed for judges and received written feedback on their auditions before the 12 regional finalists were selected.
"The amount of time and hard work these students put into their monologues is emblematic of the fact this competition is not about who wins or loses. It is about giving young people an opportunity to find themselves and their communities in Wilson's work," said Johnson. "The training sessions are not about preparing students to win. They are about allowing students to tap into the depths of their humanity."
For regional finalists Joey Aquino, Luke Baxter, Kelly Bouslaiby, Hollis Dohr, Asa Ferguson, Hannah Franklin, Elija Hall, Habin Lee, Arjang Mahdavi, Ehvinny Mora, Alexander Villaseñor, and Aryana Williams, this meant digging through personal experiences to understand characters whose lives are often very different from their own. To do so, they underwent 16 hours of training with Program Advisor Andi Chapman. They received one-on-one coaching in text analysis, character study, and vocal and physical technique. They also worked together as an ensemble, learning how to collaborate and support one another as artists.
"The competition is a continuation of the idea that Center Theatre Group is here to support great art and great artists. We pass the torch to a new generation of artists. Each year, I am amazed by the complexity, emotion, and understanding this new generation brings to Wilson's characters," said Center Theatre Group Artistic Director Michael Ritchie.
This complexity and understanding was on full display throughout the regional finals. First-place finalist Aryana Williams took on the role of Louise from Seven Guitars, imbuing the character with raw, world-weary experience and cutting humor. Alexander Villaseñor, who took second place, brought to life Youngblood from Jitney, a character determined to provide for his girlfriend and family. And third-place finalist Elija Hall, who played Tonya from King Hedley II, shook the audience with her uninhibited depiction of a woman choosing not to have a child.
The top two performers will travel to New York later this spring to perform in the national finals at the August Wilson Theatre on Broadway—a special honor for first-place finalist Aryana Williams. Having come in third in last year's competition, Williams will finally have her chance to speak Wilson's words on the Great White Way.
Her journey is representative of what the August Wilson Competition is all about: experience, understanding, and growth. Which is why the Center Theatre Group Affiliates have supported our August Wilson Program since its inception, and continue to serve as presenting sponsor. "We are thrilled that we can touch the lives of so many young and talented artists," said Center Theatre Group Affiliates President Kim White Peterson.
2017 AWMC Regional Finals Photos
August Wilson Monologue Competition
The August Wilson Monologue Competition enables students from all walks of life to discover August Wilson's profound and deeply relevant works of art, study the craft of acting, explore their own creative voices, and learn more about our shared history and themselves.
Learn More