An Opportunity to Celebrate
An Interview with 'Jitney' Director Ruben Santiago-Hudson
Ruben Santiago-Hudson describes August Wilson's Jitney—onstage at the Mark Taper Forum Novermber 22 – December 29, 2019—as "two parallel love stories."
"August writes about all the things that are innate in human nature—jealousy and nobility, love, deceit. Jitney has all of those things," explained the actor, director, and writer, who last appeared at Center Theatre Group in spring 2019 in Lackawanna Blues at the Taper. "But if you look at it from the outside, it looks like a bunch of men trying to hold onto their station."
Set in 1970s Pittsburgh, Jitney is on its face about the drivers at an unlicensed taxi cab (or jitney) station fighting against the forces of gentrification that threaten to shut them down. But there is much more to the story, which is why this new production, directed by Santiago-Hudson, resonated on Broadway, where it received six Tony Award® nominations, winning Best Revival of a Play.
"Jitney is important to today's audiences and yesterday's audiences and tomorrow's audiences," said Santiago-Hudson. "We're watching these two love stories clashing and passing each other. It's the opportunity to see people of color wanting, needing, and achieving everything that's called the American Dream, people of color trying to attain the most simple of lives and values—justice, liberty, freedom. That's the conflict—that's the challenge we're facing from the minute we were thrown on this soil."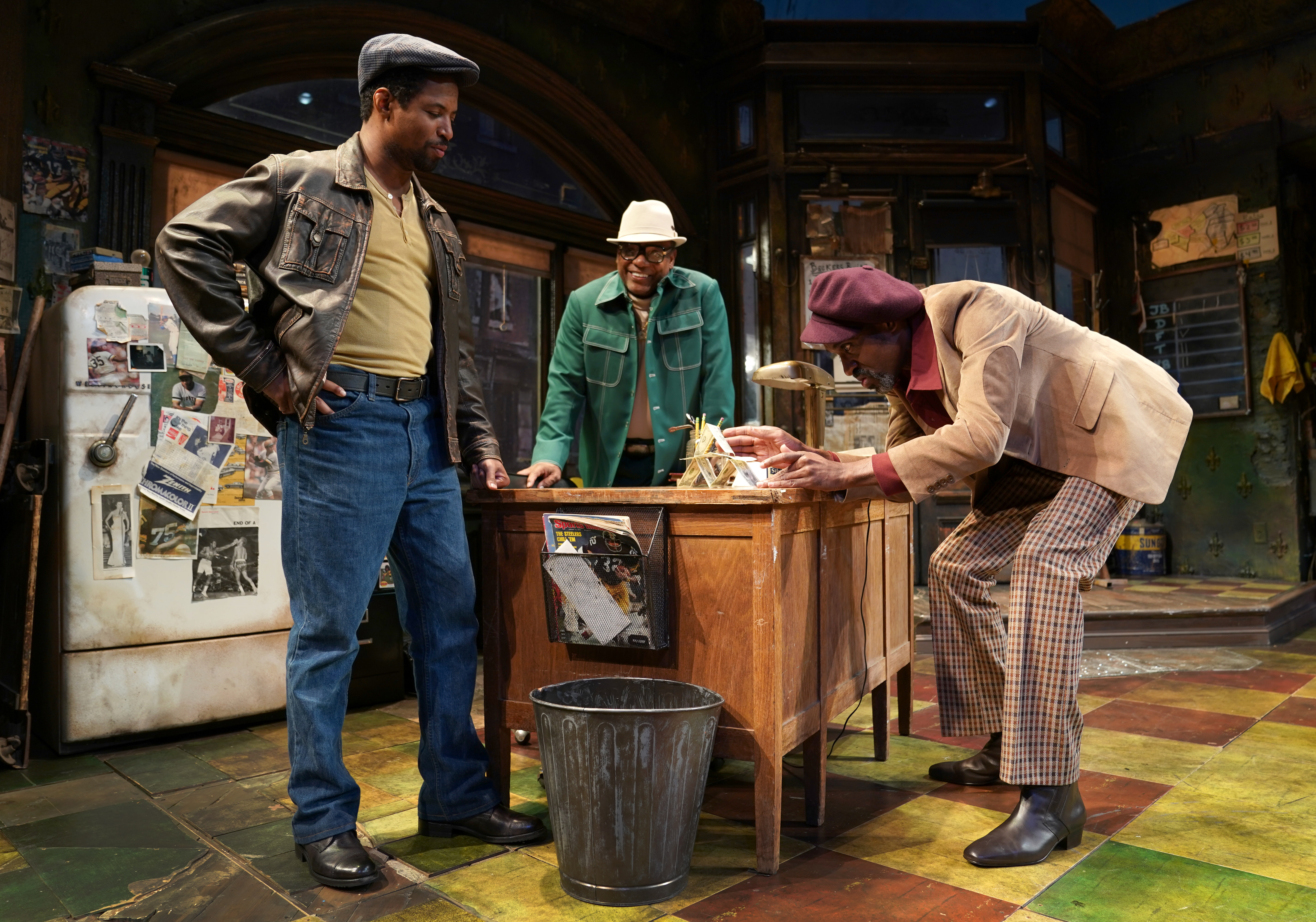 Santiago-Hudson noted that throughout all of Wilson's American Century Cycle, people of color are fighting "for common, basic human needs"—from Gem of the Ocean (taking place in 1904) to its final installment, Radio Golf (set in the late 1990s). "It's important that the audiences come in and witness the beauty, the magnificence, the anger, the disdain, the joy, the humor, and love of people of color. 'Cause we all got it," he said.
Those emotions are all on display throughout the two love stories at the center of Jitney. The first follows a "totally tattered" relationship between a father and son "who don't know how to bring that love together, who don't know how to get on the same because they're estranged and no longer know each other," said Santiago-Hudson. "There's another love story—one in jeopardy—about two young people with a child that are trying to figure out how to make their love a successful love," he said.
There are few people as intimately acquainted with Wilson's work as Santiago-Hudson, who acted in Seven Guitars and Gem of the Ocean, winning the Tony for his performance in Seven Guitars. He was also a friend. Weeks before Wilson died in 2005, Santiago-Hudson asked if he could be the person to bring Jitney—the only show in the American Century Cycle that had not appeared on Broadway in Wilson's lifetime—to the Great White Way.
August's writing always instills a completeness in human beings, even though they're in a struggle. They still have nobility. They still have dignity. Rarely do we get to celebrate in that way. And August gives you that opportunity every time.
Wilson agreed, but had his own request: for Santiago-Hudson to perform in Wilson's autobiographical one-man show, How I Learned What I Learned, first. "He called me specifically and asked me to do How I Learned What I Learned because he couldn't complete his journey with that play," said Santiago-Hudson. "So two weeks before his transition—when he passed—I promised him that I would." It took a little longer than anticipated, but in 2013, Santiago-Hudson made good on the promise, starring in How I Learned What I Learned Off-Broadway at the Signature Theatre.
Bringing Jitney to Broadway was its own journey as well. "They felt there was no need for the show to go to Broadway, and I selfishly thought, why not complete the 10-play cycle?" said Santiago-Hudson. "I feel like at this point I'm not satisfied—I can never be satisfied. Contentment is my enemy. If I get content, then I'll never keep fighting."
Nonetheless, he believes he's "paid a wonderful honor" in being a part of this Jitney revival.
"August Wilson accomplished things that no other writer in America has ever accomplished," said Santiago-Hudson. "He wrote 10 plays, and all of them went to Broadway. Now there are writers who've written 10 times as many plays, five times as many plays. But has every one gone to Broadway?" Wilson is "batting 1.000," said Santiago-Hudson. "That in itself is monumental."
So is the work itself. "I don't think there's been a whole lot of opportunities for people of color, African American people—people from African descent in America—to be celebrated in such a fullness," said Santiago-Hudson. "And August's writing always instills a completeness in human beings, even though they're in a struggle. They still have nobility. They still have dignity. Rarely do we get to celebrate in that way. And August gives you that opportunity every time."