How Do You Make An Arts Professional?
The Corporate Circle Supports Center Theatre Group Workforce Development Programs
Before her internship at Center Theatre Group, Talin Abadian didn't know careers in dramaturgy existed; now, she's dramaturging a play on the refugee crisis at California State University, Northridge, where she is a graduate student in theatre. Before her internship, Jocelyn Lopez had never traveled on her own; inspired by a Center Theatre Group mentor, she took the bus to a conference on women's leadership at American Conservatory Theater in San Francisco. Before his internship here, Johnathan Garza wasn't sure what he wanted to do with his life; now, he's majoring in communication science at UC Santa Barbara, has a Congressional internship under his belt, and is planning to become an advocate for the arts.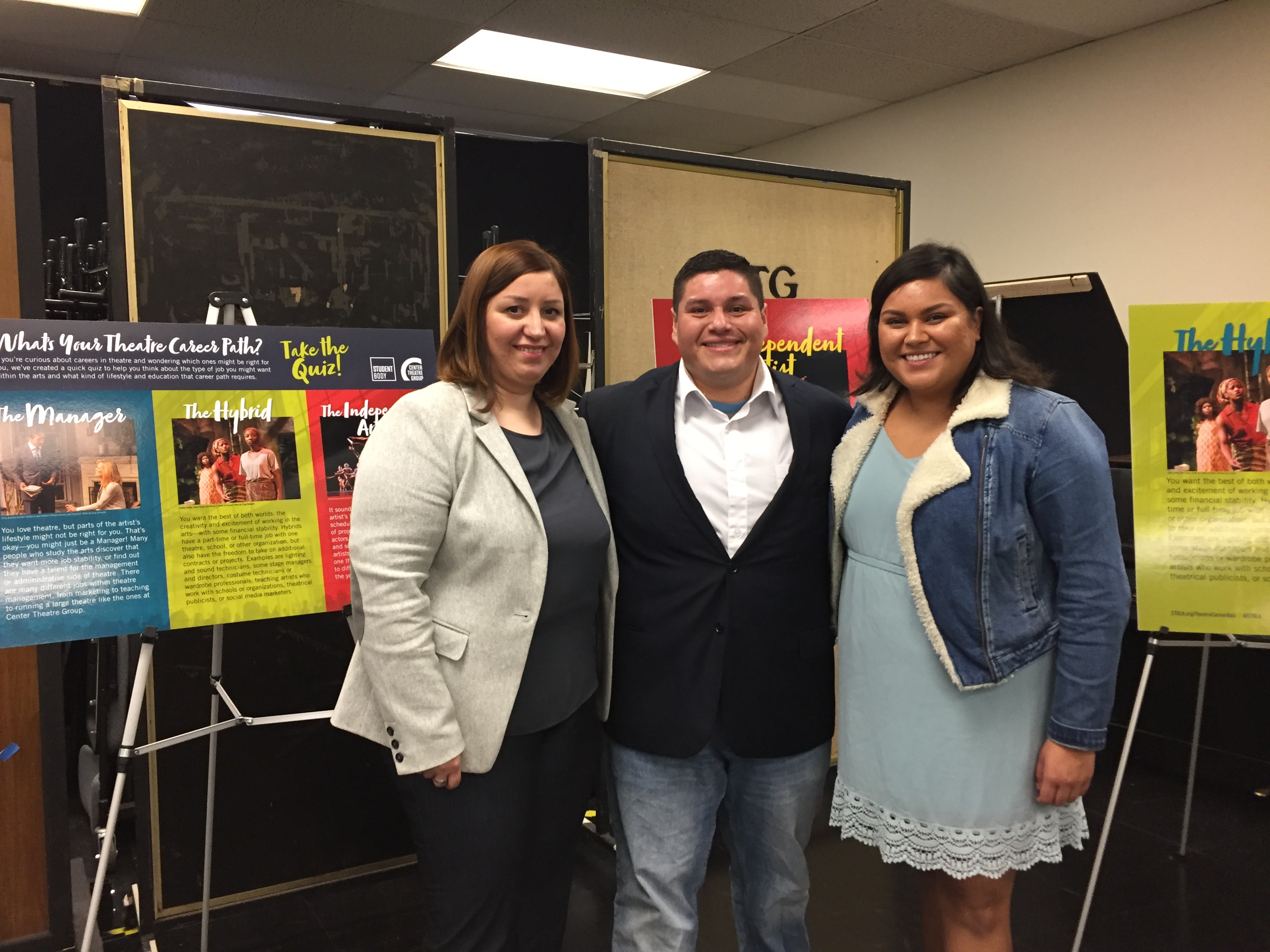 These three young people shared their stories at a Center Theatre Group Corporate Circle luncheon event on January 24, 2018: The Making of an Arts Professional. Director of Social Strategy, Innovation and Impact Leslie K. Johnson led a discussion about their experiences as Center Theatre Group interns.
Corporate Circle Chair Jon Axel welcomed guests and talked about the natural synergy between corporate employment practices and workforce development programming, which the Corporate Circle supports. He then turned over the floor to Center Theatre Group staff to discuss the Internship and Student Ambassador Programs, as well as online and in-person career resources available to students.
Johnson then asked the three alumni—Abadian, Lopez, and Garza—to share about your experience at Center Theatre Group and help us tell the story of why it's important to have programs that connect school and work.
Abadian, who was born and raised in Iran, talked about how serving as Center Theatre Group's Management Fellow helped bring together her personal love of literature and her professional path. English is her third language, and she wasn't sure if she was going to be able to forge a career that depended on her reading and writing skills. But working on contract agreements and reading scripts at Center Theatre Group—and learning about dramaturgy—eased her fears. The biggest thing it did for me was give me confidence, she said.
Lopez, a longtime participant in Center Theatre Group education programs, talked about starting her internship with trepidation. You set yourself up to think, 'I have to be perfect,' she said. Then came her a-ha moment: Wow, this is actually a learning experience. These programs are meant for young people…to show you basically how to do a job. And I think this is what we're lacking in a lot of fields. The internship plugged Lopez into professional networks in the field and helped her decide to pursue a career path in arts administration.
I was able to learn and mess up here. It felt like I was getting an education, said Garza. I was a student here. He talked about how the Center Theatre Group experience prepared him for an internship in the House of Representatives in Washington, D.C. Center Theatre Group was my foundation. Everything I learned about being a professional—working on my resume, working on my cover letters—everything came from Center Theatre Group. When I went to D.C., people were impressed that I was able to do these things, but I had learned them here.
In closing, Jon Axel let guests know about three ways for Corporate Circle members to help students like Abadian, Lopez, and Garza: by offering financial support, by providing their expertise as volunteers and mentors, and by sharing enthusiasm for this type of programming within their companies and professional networks.
Center Theatre Group offers internships for college undergraduate and graduate students throughout the year.
Learn More